GOOD-BYE OLD MAN [from the AIATSIS Collection]
Year: 1977
Classification: Exempt - Ronin Recommends: G
Runtime: 66 min
Produced In: Australia
Directed By: David MacDougall
Produced By: David MacDougall
Language: English language and English subtitles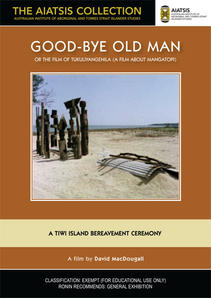 price includes GST and postage

At the request of a dying Tiwi man and his family on Melville Island, this film was made of the pukumani (bereavement) ceremony to follow his death.
The film observes the family through the long period of preparation for the ceremony, following age-old traditions. Dancing and face-painting are rehearsed, to the family's satisfaction, and because "things should be right for this film".
For the two days of ceremony, the community moves to Carslake Beach where a smoking ritual is held to protect the participants from spirits. The cemetery poles are erected, traditional dances are performed along with personal dances by family members. Facial and body decoration is elaborate and spectacular.
After saying a final farewell to the old man, the community and the family leave the Beach and return to the village where routine life resumes.
The film is narrated by one of the participants in the ceremony, Thomas Woody Minipini, not using a prepared script, but with his observations recorded as he watched the edited film.
English language and English subtitles
Produced and directed by David MacDougall
Photography and editing by David MacDougall
Sound recording: Bryan Butler
Commentary and translations: Thomas Woody Minipini
Anthropological advisor: Maria Brandl
Produced by the AIAS Film Unit (Australian Institute of Aboriginal Studies, Canberra) - 1977
Ronin Films wishes to advise Aboriginal and Torres Strait Islander people that this film may contain images and voices of deceased persons.
Permalink: https://www.roninfilms.com.au/feature/7348