MACDOUGALL TAPES, THE
Year: 2017
Classification: Exempt - Ronin Recommends: G
Runtime: 261 min
Produced In: Australia
Directed By: Andrew Pike
Produced By: Andrew Pike
Language: English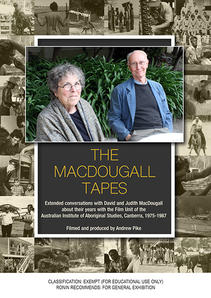 price includes GST and postage

DVD 1: The Conversation with David MacDougall Recorded on 2 October 2013, Canberra. Running time: 135 mins.
DVD 2: The Conversation with Judith MacDougall Recorded on 22 July 2014, Canberra. Running time: 126 mins.
These extended conversations with David and Judith MacDougall represent an invaluable archival record and convey a wealth of ideas and information relating to their experiences as a highly influential ethnographic filmmaking team.
The conversations cover their years with the Film Unit of the Australian Institute of Aboriginal Studies, Canberra, 1975-1987. During this time, the MacDougalls made a series of eleven documentary films, many of them acknowledged world-wide as landmark achievements in ethnographic cinema. These films included TAKEOVER (1979), THE HOUSE-OPENING (1980), THREE HORSEMEN (1982), SUNNY AND THE DARK HORSE (1987) and LINK-UP DIARY (1987). The MacDougalls discuss their approach to filmmaking and the circumstances of making each film. They also reflect on their body of work from the perspective of today, and discuss the work of other filmmakers who worked for the Film Unit, notably Kim McKenzie with films such as WAITING FOR HARRY (1980), and the work of Indigenous filmmakers Wayne Barker and Oomera (Coral) Edwards.
The Australian Institute of Aboriginal Studies (later AIATSIS – the Australian Institute of Aboriginal and Torres Strait Islander Studies) was established as a statutory authority in 1964. The Institute quickly established its own film unit to act as a film archive and to record material of ethnographic and historic significance. Part of this work also involved the preparation of films for public release, and until the early 1990s, the AIAS Film Unit became responsible for some of the most significant works of ethnographic film then produced in Australia.
A collection of 29 significant documentary works from the Film Unit have been re-mastered and re-released by Ronin Films in association with AIATSIS. Information about these films can be found on the Ronin Films website: www.roninfilms.com.au/video/7240.html
For an excellent study of the AIATSIS films, see the monograph, "Bringing to Light" by Ian Bryson (published in 2002 by Aboriginal Studies Press, AIATSIS).
Permalink: https://www.roninfilms.com.au/feature/14437