BOOMERANG TODAY [from the CAAMA Collection]
Year: 2004
Classification: Exempt - Ronin Recommends: G
Runtime: 22 min
Produced In: Australia
Directed By: David Tranter, Allan Collins
Produced By: Rachel Clements
Language: Warlpiri and Anmatyerr language, English subtitles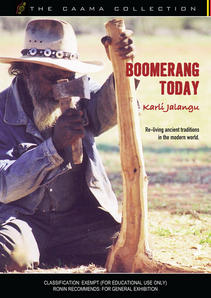 price includes GST and postage

A delightful observational documentary about the making of a number seven boomerang by four senior traditional men from Yuelamu, west of Alice Springs in central Australia.
The men talk about how they were taught by their elders using bush materials, and are now teaching a new generation using some modern tools, to keep traditional law and culture strong.
We follow the hunt for the wood, the shaping, the smoothing and the painting of the boomerangs with red ochre, noting the cultural significance of the work and implements, until the Number 7 is completed and singing.
Beautifully photographed and edited, this simple film eloquently captures the characters of the four elders and their sense of responsibility about passing on their knowledge.
---
Featuring Johnny Possum Japaljarri, Teddy Egan Jangala, Franky Japanangka and Alby Morris Jampijinpa.
Directors - DAVID TRANTER and ALLAN COLLINS
Research-writer - DAVID TRANTER
Photography - ALLAN COLLINS
Sound recording - DAVID TRANTER and VANCE GLYNN
Editor - DENA CURTIS
Music - WARREN H. WILLIAMS and COREY NOLL
Unit manager - PETER YATES
Production co-ordinator - DENA CURTIS
Series producer - RACHEL CLEMENTS
Executive producer - CITT WILLIAMS
---
Follow this link to view a trailer that includes this title and other CAAMA titles: www.youtube.com/watch?v=lFJiiPPT3bg
Permalink: https://www.roninfilms.com.au/feature/2890