LONG GOODBYE, THE
Year: 2010
Classification: Exempt - Ronin Recommends: PG
Runtime: 55 min
Produced In: Australia
Directed By: Kaye Harrison
Produced By: Gina Twyble
Language: English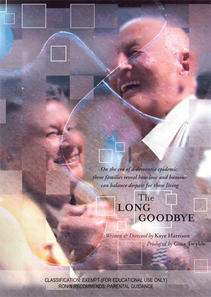 price includes GST and postage

Our brain makes us who we are, it gives us our memories, our ability to think, to understand the world around us and it gives us our sense of self. All this is slowly stripped away for a person living with dementia. THE LONG GOODBYE follows the journeys of three families living with dementia as they struggle to maintain the identity and dignity of those they love. Filmed over a 3 year period, the documentary celebrates the capacity of the human spirit to search for meaning and hope when the end is known and inescapable.
The three families are at different stages of the condition and they each offer a different perspective. Michael, a criminal barrister with four teenage children was diagnosed with early onset Alzheimer's disease at the age of 49. Three years on and still in the early stages of his condition, Michael retains insight and articulately shares his thoughts and feelings from within the disease. Although adamant he will fight on with a positive attitude and a sense of humour, Michael struggles with the loss of his professional identity and the shifting relationship dynamics within the family home. As his condition deteriorates, Michael and his family bravely strive to maintain as normal a family life as possible and to live each day as it comes.
The second strand is from the perspective of Myrle, an elderly carer committed to looking after her husband of 60 years until his dying day. Well into the mid stages of his Vascular dementia, Ken requires constant care and supervision. A fiercely independent woman, Myrle knocks back all offers of help, she sees it as her duty and is determined to carry out the caring responsibility alone. Although Myrle maintains control over all aspects of Ken's care she is unable to control the decline of her beloved. As Ken's condition deteriorates, Myrle is faced with the fact that she is losing the love of her life. The burden of care continues to build and Myrle's health is significantly threatened. Forced to relinquish control over Ken's care Myrle must find a new way to stay with her man.
The final strand is from the perspective of Tom, a 72 year old carer who is desperately struggling to look after his wife Brenda who is in the latter stages of her Alzheimer's disease. No longer able to care for Brenda at home, Tom very reluctantly opts for dementia specific residential care. Racked with guilt and loneliness, Tom struggles to cope with his new life separated from his wife. As Brenda's memory and speech continue to diminish and she slowly withdraws from the world they shared, Tom refuses to let her go. He finds a new way to remain connected with his soul mate, the woman who loves him yet no longer remembers his name.
Every week 1000 more Australians are diagnosed with dementia and the numbers continue to escalate in line with our ageing population. There are currently 245 000 Australians living with dementia and it's estimated that there will be over 1.13 million by 2050. Raised in the unparalleled optimism and prosperity of the '50s and '60s, the baby boomers are accustomed to controlling their own destiny. As the dementia epidemic looms it is unknown whether science will save them this time.
For our three families the end is known and inescapable and yet they refuse to despair. Their insight, humour and wisdom will provide comfort and hope to thousands of Australians facing a similar fate. A very intimate and ultimately uplifting documentary, THE LONG GOODBYE celebrates the best the human spirit has to offer.
VIEW TRAILER HERE: vimeo.com/641351501
Related files
Permalink: https://www.roninfilms.com.au/feature/3956