HOPE ROAD
Year: 2017
Classification: Exempt - Ronin Recommends: PG
Runtime: 103 min
Produced In: Australia
Directed By: Tom Zubrycki
Produced By: Tom Zubrycki
Language: English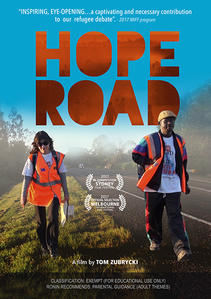 price includes GST and postage

A refugee from the Sudanese civil war, Zacharia (one of the 'Lost Boys' of Sudan), lives in Sydney with his wife and daughter. He desperately wants to do something for his former village, now in the newly created nation of South Sudan. His dream is to build a much-needed school, and he enlists the backing of numerous Australians who help him to raise funds.
A year after Independence for the new nation of South Sudan, Zacharia returns to his village. Hundreds are out on the road waiting. A bull is slaughtered, women ululate and dance. Zac's overwhelmed. Promises are given and expectations raised.
Soon work starts on clearing the site and making the bricks for the school. Yet almost immediately it all starts unravelling: the men want more money, the well is dry and needs fixing and there are arguments as the women push for the school that means so much to them.
Back in Australia, Zach finds that any possibility of help from the Australian government is lost when aid to Africa is savagely cut. Zac's support committee comes up with an ambitious plan: a 40-day charity walk from Tweed Heads in northern NSW to Sydney. Zac was one of the 'Lost Boys' who walked out of Sudan, but can he do a walk like this again? All of 1,200 kilometres.
Meanwhile, back in South Sudan, civil war starts again, and quickly escalates, while clan warfare breaks out in the village. The plans for the school and the 6,000 bricks they have made are imperilled. Even more unexpected is a tragic twist in Zacharia's personal life.
---
Racial profiling of South Sudanese
There's been much racial profiling of South Sudanese as a result of media reports of 'violent crime sprees' by 'African gangs' in Melbourne. This documentary presents a different and more complex picture.
Hope Road lifts the veil on what life can be like for refugees like Zac - caught between two worlds. Re-establishing their lives in Australia, but at the same time feeling an acute obligation back to their homeland.
"Inspiring, eye-opening ... An intimate portrait of suffering overcome and the enduring scars borne of trauma, Hope Road is a captivating and necessary contribution to our refugee debate from one of Australian cinema's most humane storytellers" - program note, Melbourne International Film Festival 2017
---
View trailer for Hope Road here: vimeo.com/216430460
---
DVD EXTRAS: the DVD of HOPE ROAD includes the full-length film (103 mins) and, for classroom convenience, a "Reduced Version" of the film in three parts (THE VILLAGE, 23 mins; THE WALK, 23 mins; and THE FAMILY, 24 mins).
---
HOPE ROAD – Director's Statement
Hope Road is many things. First and foremost it's a migration story: one person struggling against the odds - not only to make a difference back in his old village, but also struggling to keep his own family together in suburban Sydney. At another level again it's about the sheer nightmare logistics of building a school in rural Africa. It's also about how a small NGO attempts to fund-raise having a very substantial goal, and about the group dynamics of a small of people working together: the conflicts, the 'ups and downs' etc. All these complex elements relate together. The story is set at a very human level. You really get to know the characters and what drives them, leavened with intimacy and humour.
The idea of building a school in South Sudan by a committee in Australia was extremely ambitious, and the sheer scope of thus project was what drew me to it.
Zacharia vision and drive to make a difference for this community back in his homeland was not an un-familiar migration story. It resonated with my earlier documentary "Homelands" I made in 1992 when Carlos went back to El Salvador to become a teacher in a rural village
I met Zacharia, and the 2 core committee members, Janet and Chris, back in 2012. I was impressed by their dedication and ambition, and the fact that they'd raised enough funds to make a start on the building work – just enough to make the bricks for the entire school. They were well–intentioned but inexperienced – both in raising funds, let alone building a school. I suspected that the combination would provide drama and story down the track. My hunch was correct.
I've made longitudinal character driven observational documentaries throughout my career. My decision to embark on a project, which is likely to be a massive one (like this one became,) is always guided by an educated guess of what might possibly eventuate. This documentary had story elements and turning points that not even a good scriptwriter could have possibly predicted! It did take 4 years to unfold, but making this film independently and without a broadcaster I didn't have the constraints of a delivery schedule.
Plans were well advanced and Zac was about to leave to a newly independent South Sudan in order to organize this first stage. I decide I would join him. And this is how the film started. Finance was subsequently raised through Screen Australia's Signature Fund, now no longer operating, unfortunately. It's much harder to get films like Hope Road funded these days.
- Tom Zubrycki, 2017
---
Director, producer, photographer Tom Zubrycki
Editor, Associate Producer Ray Thomas
Original music Kyls Burtland
Developed and Financed in Association with ScreenNSW
Principal Investor, Screen Australia
Related files
Permalink: https://www.roninfilms.com.au/feature/14979