RED BOWMEN, THE
Year: 1978
Classification: Exempt - Ronin Recommends: PG
Runtime: 58 min
Produced In: Papua New Guinea
Directed By: Chris Owen
Produced By: Chris Owen
Language: English and Umeda with English subtitles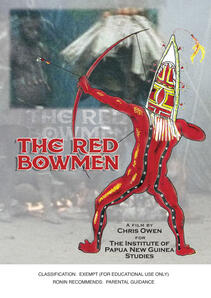 price includes GST and postage

In the West Sepik Province of Papua New Guinea, the Umeda people eke out a difficult living from the sago swamps and primary rain forest that surround them.
This film was made in 1978 to record a ceremony that the Umeda people had performed up annually up until that time. The ceremony, the Ida, dramatised the Umeda relationship to the forest and celebrated their continuing survival. It was in essence a fertility ritual focussing on a complex metamorphosis of figures representing cassowaries. The ceremony was the major social occasion of the Umeda year.
This record of the Ida ceremony and the analysis of it, was prepared in collaboration with the British social anthropologist, Alfred Gell.
THE RED BOWMEN was one of the first documentaries made by Chris Owen after he took a position as filmmaker with the Institute of PNG Studies in 1976. It reveals his eye for telling detail, and is a fine example of his compelling and sensitive studies of traditional life in PNG.
"THE RED BOWMEN serves the invaluable function of preserving in rich detail a beautiful and sensitive view of what Alfred Gell has, sadly, called 'a doomed cultural tradition'." - Terry Hays, American Anthropologist.
Director, photographer and editor - Chris Owen
Sound recordist - Les McLaren
Anthropologist - Alfred Gell
© Institute of PNG Studies, 1978