EXILE IN SARAJEVO
Year: 1996
Classification: M
Runtime: 91 min
Produced In: Australia
Directed By: Alma Sahbaz, Tahir Cambis
Produced By: Tom Zubrycki
Language: English/English subtitles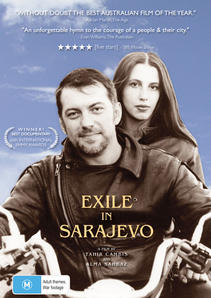 price includes GST and postage

A tale of Multiculturalism under siege; at last the great success story of Sarajevo has been told. Inspiring audiences during its cinema release and at international festivals - a special edition of EXILE IN SARAJEVO was broadcast to many millions on CNN worldwide.
This is Sarajevo as we've never seen it - sophisticated, dynamic, a city of 40 nations whose multicultural civilisation triumphed despite 2 million shells landing on the city. Brushing aside all the cliches on Bosnia, we meet real people, no different to ourselves, except for their heroism. People like 8 year-old Amira, who kept a diary of her internment in a death camp; and Nirvana, tragically cut down by a shell; and her heroic mother, Zemka. A crazy group of models, "The Front", take us on a fashion parade on the frontline.
As we go on to witness the Market Massacre, the NATO air raid and the transformation from siege to liberation of the city, we too are transformed as people. Innovative in style, anguished, even funny, EXILE IN SARAJEVO is an extraordinary elegy for a city whose gift to us all is their message of tolerance and hope and human values.
---
"Without doubt the best Australian film of the year." - Adrian Martin, The Age.
***** [five stars] - SBS Movie Show
"An unforgettable hymn to the courage of a people & their city." - Evan Williams, The Australian.
"Captures an extraordinary spirit, a dignity that will not allow the forces of evil and apathy to crush these amazing people." - Peter Castaldi, Herald-Sun.
"The next time they shoot a capsule into space containing what best describes humanity - 'EXILE' need be all it holds." - Matt Buchanan, Sydney Morning Herald.
"The gift of the film to Australians is its heart-rending testament to true multiculturalism." - Tony Johnston, Herald-Sun.
---
WINNER! BEST DOCUMENTARY - 26TH INTERNATIONAL EMMY AWARDS
WINNER! Best Documentary, Australian Film Critics Circle
WINNER! Best Documentary, Melbourne Film Festival
AFI Awards Nominee, Best Documentary
Permalink: https://www.roninfilms.com.au/feature/646