DARK TO LIGHT
Year: 2010
Classification: Exempt - Ronin Recommends: PG
Runtime: 25 min
Produced In: Australia
Directed By: Rachael Thompson
Produced By: Katrina Lucas
Language: English / English subtitles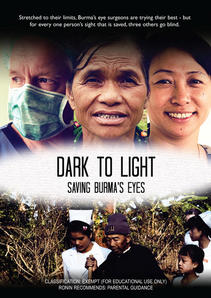 price includes GST and postage

Burma's eye surgeons are few and far between, but they are faced with the highest rate of recorded cataract blindness worldwide. Stretched to their limits, they can restore sight to only a tiny proportion of patients. By 2020 millions more will fall into darkness due to preventable blindness.
Dr Henry Newland and his team of Australian eye surgeons are determined to help. For the first time, they expand their aid program beyond Burma's city hospitals and head into the country's most needy and remote areas. There, they equip and train as many local eye doctors as they can, hoping to create a lasting, sustainable solution.
---
DIRECTOR'S STATEMENT
[Rachael Thompson]
I was invited to travel to Burma in early 2008 with the Vision Myanmar team – a group of volunteer eye surgeons from the Royal Adelaide Hospital led by Dr Henry Newland – to document the work they were doing in medical centres and communities. Stepping into the hospitals in regional Burma was like stepping back in time to the year 1950, when nurses still wore pointed hats and medical instruments were still sterilized by boiling them in a pot (over the same stove we later cooked lunch on!) I hope the audience can glimpse a little of what I experienced in Burma and appreciate the work of the dedicated local and international medical staff, who despite working under difficult conditions, are actually making a sustainble difference in the area of cataract blindness.
---
Finalist - SCINEMA 2010 Festival of Science Film, Australia.
Official Selection - 2010 Kos International Health Film Festival, Greece.
Permalink: https://www.roninfilms.com.au/feature/4361