VACANT POSSESSION
Year: 1994
Classification: M
Runtime: 95 min
Produced In: Australia
Directed By: Margot Nash
Produced By: John Winter
Language: English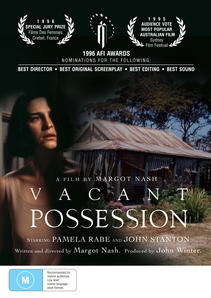 price includes GST and postage

NOW RE-MASTERED FROM ORIGINAL FILM MATERIALS! A welcome re-release of the acclaimed dramatic feature film from 1994, written and directed by Margot Nash (director of The Silences, also available from Ronin Films).
Following her mother's death, a young woman returns to the old family home, a ramshackle, dilapidated cottage in a coastal town. The visit brings personal memories that still disturb her, and also brings her into contact with a neighbouring Aboriginal family with its own story of dislocation. Her father, too, returns: a former soldier still struggling with demons from his wartime trauma and unable to communicate with his family.
A haunting film about personal and public loss, about white ownership and Aboriginal dispossession, and about the difficulty of reconciliation, Vacant Possession introspectively explores the soul of individuals and the nation.
"Probes the question of Australian identity, intelligently and cinematically" – David Stratton, Variety
"Nash's handling of the material is vivid and inventive. It's a truly exciting piece of cinema ... Unquestionably one of the best and most impressive Australian films of the 1990s." – Adrian Martin, The Age, Melbourne.
"Daring and mature ... a landmark Australian film" - Anna Maria Dell 'Oso, Sydney Morning Herald
VIEW TRAILER HERE: vimeo.com/274803881
Starring:
Pamela Rabe, John Stanton, Toni Scanlon, Linden Wilkinson, Rita Bruce, Olivia Patten
Director and screenwriter Margot Nash
Producer John Winter
Director of Photography Dion Beebe

Editor Veronika Jenet
Composer Alistair Jones
Sound Design Tony Vaccher John Dennison

Production Designer Michael Philips
Costume Designer Clarissa Patterson
Aboriginal Consultant Kathy Kum-Sing

Produced by Wintertime Films and As if Productions in association with the Australian Film Commission.
---
Awards:
1996 Special Jury Prize - Films Des Femmes, Créteil, France.
1995 Audience Vote - most popular Australian film, Sydney Film Festival.
1996 AFI Awards nominations for the following:
- Best Director
- Best Original Screenplay
- Best editing
- Best Sound
2021 Melbourne International Film Festival - restored version, as part of their Restoration Program.
---
Program Note from Melbourne International Film Festival, 2021:
Vacant Possession was the first narrative feature film from Australian cinematic polymath and award-winning documentarian Margot Nash (The Silences, MIFF 2015). Both intensely personal and overtly political, it follows two families – one white, one Aboriginal – trying to reconcile the skeletons in their intertwined histories. Connecting them is Tessa (Rabe), who, as a teen, was driven from the family home when she became pregnant by her Aboriginal boyfriend. Now grown-up, Tessa has returned following her mother's death and must confront her memories of the past as they begin to blur with the realities of the present.
Originally debuting at MIFF in 1995 and multi-nominated at that year's AFI Awards, this hauntingly symbolic film boldly examines Australia's history of colonisation and dispossession. Nash's surreal, often dreamlike narrative is brilliantly conjured by Dion Beebe's gorgeously textured cinematography and Alistair Jones' evocative score, while a dynamic cast that also includes John Stanton, Linden Wilkinson and Tom E Lewis keep things compellingly grounded.
---
Related files
Permalink: https://www.roninfilms.com.au/feature/15287