PHOTO WALLAHS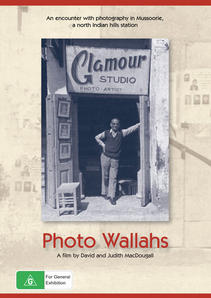 price includes GST and postage

PHOTO WALLAHS is set in Mussoorie, a famous hill station in northern India which has attracted tourists since the 19th century. In this setting photography has thrived.
Without spoken commentary, the film discovers its subject in the streets, bazaars, shops, photographic studios and private homes of Mussoorie.
In the process it compares the diverse work and attitudes of the local photographers - Mussoorie's "photo wallahs". Although photography has developed certain culturally distinctive features in India, its many forms and uses there tell us much about the nature and significance of photography throughout the world.
Royal Anthropological Institute Commendation
Society for Visual Anthropology Award
Bilan du Film Ethnographique (Paris) honoree
Margaret Mead Film Festival honoree
Berlin Film Festival honoree
Bombay Intl. Film Festival honoree
Permalink: https://www.roninfilms.com.au/feature/513