ESCHER: JOURNEY INTO INFINITY
Year: 2018
Classification: Exempt - Ronin Recommends: PG
Runtime: 80 min
Produced In: Netherlands
Directed By: Robin Lutz
Produced By: Robin Lutz
Language: English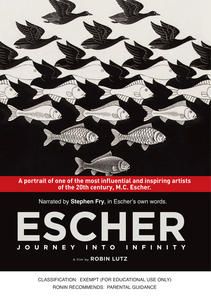 price includes GST and postage

JOURNEY INTO INFINITY is a portrait of the Dutch artist, M.C Escher, and an exploration of his wide influence on modern art world-wide and the inspiration he provided for musicians and popular culture today.
The film is based on more than 1000 letters, dairies and lectures that Escher wrote during his lifetime. We hear him speak in his own words, about his life, his fears, doubts, politics and work. The film travels to sites that were major inspirations for him.
Two of Escher's sons, George (aged 92) and Jan (80) reminisce about their parents. Additionally musician Graham Nash (from Crosby, Stills, Nash & Young) talks about Escher's rediscovery in the 70s.
The film looks at Escher's legacy and how his work even today inspires comic strips, advertising graphics, movies and video art. His work draws massive crowds worldwide to exhibitions of his art.
VIEW TRAILER HERE: vimeo.com/344446902
Director, producer, photographer Robin Lutz
Co-producer Marijnke de Jong
Editor Moek de Groot, NCE
Narrated by Stephen Fry
© 2018 Robin Lutz AV productions
All M.C. Escher works © The M.C. Escher Company B.V. -Baarn-Holland.
Used by permission. All rights reserved. www.mcescher.com
---
Director's statement:
"I fear that there is only one person in the world who could make a really good movie about my prints: myself". This line wrote Escher in 1969 to an American collector of his work. And that is exactly what Escher is doing in this movie: he is the director, not literally but symbolically.
Besides being a visionary graphic artist, Maurits Escher was a sharp observer who described what he saw and experienced in numerous diaries, letters, lectures and catalogues. Thus, an image is created of his personal life described in his own words, with all his fears, doubts, euphoric moments, political considerations, his amazements, his artistic development and of course his own opinion on his work.
Escher gave sharp commentary on the turbulent world around him but focused entirely on his art. After a long period of traditional work his big break trough became reality after WWII with his "Escher" prints. In these works he shows a world that seems logical at first view but seems to be impossible in reality. The film shows with 3D animations how Escher visualised a vague idea into a graphic work and how his thought process evolved.
After Rembrandt and Van Gogh, Escher is now one of the most famous Dutch artists known in the world. Everyone recognises his work immediately. But he was astonished by his huge success, especially among the youth. Escher's sons, George and Jan, and pop icon Graham Nash put Escher story in context in the movie. The son's testimonials are a direct supplement to the content of Escher himself. Pop star Graham Nash is a very big collector of Escher's work and thanks to Escher's work he discovered 'art'. He is now besides singer also an art collector and publisher of art books.
This feature documentary is the first complete film about Escher's life and work, told in his own words!
---
About the making of the film:
Robin Lutz is the initiator of the Escher film project together with his film-partner Marijnke de Jong. First they have sought cooperation with the Escher Foundation, which has all the (picture) rights to the works of Escher. This foundation has agreed and gave their full cooperation to realise the movie. This indispensable partner will link the film also to the countless Escher exhibitions planned all over the world in the coming years. Naturally, the Escher museum in The Hague was also a good partner in this film project.
Sir Roger Penrose, Emeritus Professor of mathematics at Oxford University is the patron of the film.