COMMON PURPOSE, A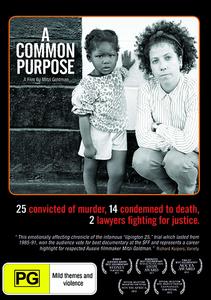 price includes GST and postage

"You've got to be kidding. You can't have 25 people convicted of killing one man. Even in South Africa, that's ludicrous." - Andrea Durbach, Solicitor
Twenty-five people are convicted of the murder of one man, fourteen are sentenced to hang, one lawyer is assassinated and the other goes into exile. A Common Purpose is the dramatic story behind a notorious murder trial that marks South Africa's transition from apartheid to democracy. Told through the perspectives of defence lawyer, Andrea Durbach, Independent journalist John Carlin and the accused, the story unfolds to reveal one of legal history's biggest cases on the death penalty. A Common Purpose tells a timeless and inspirational story about a struggle for justice in a country where injustice was entrenched in the law.
In the late 1980s, during the most violent period of the apartheid regime, twenty-five men and women were rounded up in Paballelo, a black township bordering the town of Upington in South Africa, to stand trial for the murder of a black policeman. Upington – a small town near the border of South Africa and Namibia, known as a stronghold of Afrikaner nationalism – was besieged by a three-year legal trial, which culminated in fourteen of the twenty-five accused being sentenced to death, in the assassination of Namibian barrister and human rights advocate Anton Lubowski, and in the exile of the young, white lawyer Andrea Durbach, who represented the twenty-five.
A Common Purpose tells the story of how the trial irrevocably changed of the lives of the accused and their legal team as South Africa began its transition to a post-apartheid state. The film is structured around the return to South Africa of lawyer Andrea Durbach, a Sydney resident since 1989 and currently Director of the Australian Human Rights Centre at the University of NSW Faculty of Law. The film traces her reunion with her clients and their families eighteen years after the landmark trial and explores the impact of the trial on their lives in the new South Africa.
Prof Durbach published an account of her experiences in Upington (Allen & Unwin 1999) (short-listed for the Alan Paton Award).
View trailer here: vimeo.com/646300721
"This emotionally affecting chronicle of the infamous 'Upington 25' trial which lasted from 1985-91, won the audience award for best documentary at the SFF and represents a career highlight for respected Aussie filmmaker Mitzi Goldman." - Richard Kupers, Variety.
---
Winner! Audience Award for Best Documentary, Sydney Film Festival June 2011
Nominated for Best Documentary Social & Political Issues, 2011 ATOM Awards
Finalist - Best Documentary, ACCTA Awards, 2012
Official Selection - Encounters Film Festival, South Africa, 2012
Official Selection - BOFA Tasmanian Film Festival, 2012
Official Selection - HOLA AUNZ Film Festival, Mexico, 2013
---
Produced and directed by MITZI GOLDMAN
Editor - HILARY BALMOND
Camera, Sound - EZRA JWILI (South Africa)
Additional camera - TOBY OLIVER (Sydney), JIM LOOMIS (Barcelona)
Original Music - MARK GINSBERG, RYAN GROGAN
Director and Development Producer (South Africa) - STEVE PASVOLSKY
Consultant - ANDREA DURBACH
Filmed with the assistance of Film Graphics Entertainment
Developed with the assistance of Screen NSW
Produced by Looking Glass Pictures Pty Ltd
Principal Investor - Screen Australia
(c) Screen Australia, Looking Glass Pictures Pty Ltd, Steve Pasvolsky
Related files
Permalink: https://www.roninfilms.com.au/feature/14549