Kim McKenzie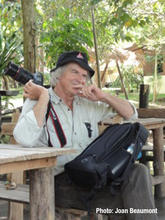 In 1976, Kim McKenzie was recruited to the Film Unit of the Australian Institute for Aboriginal Studies (now AIATSIS). Over more than twenty years there, he directed many ethnographic films, including the classic Waiting for Harry (1980) that received the Royal Anthropological Institute Film Prize in 1982.
In later years at the Institute, Kim's role came to include responsibility for management of the Institute's vast archives, with the major objective of commencing the digitization of AIATSIS' audiovisual collections. During this time he also produced the groundbreaking CD ROM version of the Encyclopaedia of Aboriginal Australia.
In 1999 Kim was appointed as a Senior Project Officer with the National Museum of Australia where he was employed until 2003, although physically based at the Australian National University. In 2000, he became head of the newly formed Consortium for Information Outreach (CRIO) at the ANU.
During this period with the Museum, Kim produced the CD Rom and book People of the Rivermouth: the Joborr Texts of Frank Gurrmanamana in collaboration with anthropologist L.R Hiatt. This project derived from research over forty years with the Anbarra people of coastal Arnhem Land. He also worked towards the opening of the National Museum of Australia on Acton Peninsula in 2001 - curating a module of the Gallery of First Australians with the Anbarra community.
From 2004, Kim was employed solely by the ANU and became head of the Digital Humanities Hub when it was established in 2010.
During his time at the ANU, he worked on a range of digital media and E-research projects. He was one of a multi-disciplinary research team working with senior Aboriginal land management experts and younger Aboriginal rangers at Kabulwarnamyo on the West Arnhem Plateau, where he continued his film work, producing a number of films – including the acclaimed Fragments of the Owl's Egg.
Kim passed away in Canberra in May 2013.
Filmography
| | |
| --- | --- |
| | FULL CIRCLE This beautifully photographed portrait of the life of Aboriginal cattle men in the Northern Territory was filmed at Robinson River Station in 1986... |
| | Using a wealth of archival photographs, this documentary reconstructs the life of buffalo hunters in the remote wetlands of the Northern Territory in the 1930s – both the white hunters and the Aboriginal labour that supported their operations... |
| | Ngatjakula is one of the most spectacular ceremonies of central Australia, employing fire, and several days of singing and dance, to resolve conflicts and re-affirm social order among the Warlpiri (Walbiri) people... |
| | Barunga, in the Northern Territory, hosts an annual festival of Aboriginal sport and culture. In 1988, 200 years after the British flag was raised in Sydney, the Festival took on a special meaning... |
| | At Ngurgdu (Spring Peak) in the Northern Territory, an area soon to be irrevocably disturbed by uranium mining, 80-year-old William Alderson (known as "Yorky Billy") reflects on his life in the outback... |
| | "Probably the best film I've ever seen about Aboriginal ritual and ceremony, because it's not simply a record of the ritual itself, but it's actually about the politics that underlie the staging of the ritual"... |
| | Archaeologist Rhys Jones investigates unusual stone spear-points found in ancient sites in the Kakadu National Park, and which seem to have been traded south from Arnhem Land... |