SPEAR IN THE STONE [from the AIATSIS Collection]
Year: 1983
Classification: Exempt - Ronin Recommends: G
Runtime: 34 min
Produced In: Australia
Directed By: Kim McKenzie
Produced By: Kim McKenzie
Language: English narration, a dialect of Yolngu language with English subtitles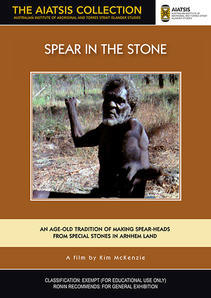 price includes GST and postage

Archaeologist Rhys Jones investigates unusual stone spear-points found in ancient sites in the Kakadu National Park, and which seem to have been traded south from Arnhem Land. Jones hears of two Elders in eastern Arnhem Land who remember how to make such spear-points and where to find the special stone in the bush.
With a geneticist, Neville White, who had been working at Donydji for 10 years, Jones is taken by the two old men and three younger men whom they wish to teach, on a trip into the bush to try to find the quarry site that used to be the source of the stone for these spear-heads. It is a long and difficult trek, albeit with a lot of hilarity along the way, and with concerns about the dangers of wild buffalo, and the risk of getting too close to sacred and secret places. Rules are set by the Elders about what can be filmed: as one observer noted, the Aboriginal people in this film are far from being passive subjects of a film, but recognise "that filmmakers had to be controlled and, more importantly, that they could be controlled". (1)
When an outcrop of the special rock is found, at a place called Ngilibitji near the head of the Walker River, work begins to find suitable stones and to make sharp-edged chips from them for spear-points and knife blades. One Elder remembers stories about the power of the spear-stone: "My spirit is one with that of the stone".
As a result of the trip recorded in the film, one of the Elders, Diltjima, decided to move permanently back to Ngilibitji with his family, to protect the area from incursion by mining companies and others.
(1) Ian Bryson, Bringing to Light, Aboriginal Studies Press, 2002, p. 68
---
Producer, Director, Photographer & Editor - Kim McKenzie
Sound - Wayne Barker
Scientific consultants - Rhys Jones, Neville White
An AIAS Film Unit production - 1983
English narration, a dialect of Yolngu language
with English subtitles.
Ronin Films wishes to advise Aboriginal and Torres Strait Islander people that this film may contain images and voices of deceased persons.