YORKY BILLY [from the AIATSIS Collection]
Year: 1980
Classification: Exempt - Ronin Recommends: G
Runtime: 17 min
Produced In: Australia
Directed By: Kim McKenzie
Produced By: Kim McKenzie
Language: English dialogue with English subtitles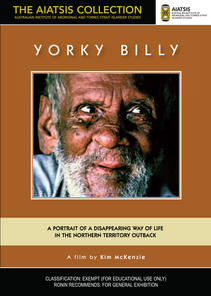 price includes GST and postage

At Ngurgdu (Spring Peak) in the Northern Territory, an area soon to be irrevocably disturbed by uranium mining, 80-year-old William Alderson (known as "Yorky Billy") reflects on his life in the outback.
His father was an Englishman from Yorkshire (hence Yorky's nickname) who spent 45 years in Australia and "tried everything" – working as a prospector, a railway worker, drover and buffalo hunter. After only 3 years of school, his only son, Yorky, worked with him - dingo scalping and hunting buffalo on horseback or on foot, until he joined the army. Yorky's mother was an Aboriginal woman who died when he was only 3 years old.
After the war, Yorky married an Aboriginal woman and worked in various jobs – gold prospecting, and at a sawmill before settling at Ngurgdu. He and his wife had a large family and she is still with him at Ngurgdu, helping him to look after the property. His father, who died in 1948, is buried there.
Yorky Billy recorded his story in November 1977, and died soon thereafter, in February 1979, and was buried near his father at Ngurgdu.
Filmed simply with minimal editing, McKenzie's film is a poignant and elegiac reflection on a disappearing way of life, capturing Yorky's slow and quiet rhythm of speech, his wry humour, and with his weather-beaten face only just emerging from the deep shadows inside his corrugated iron shack.
---
A film by Kim McKenzie with thanks to George Chaloupka
An AIAS Film Unit production - 1980
English dialogue with English subtitles
Ronin Films wishes to advise Aboriginal and Torres Strait Islander people that this film may contain images and voices of deceased persons.