John Darling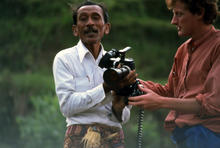 Photo shows John Darling with Indonesian filmmaker, I Made Sumung.
--------------------------------------------------------------------------
THE JOHN DARLING FELLOWSHIP
Applications for the Fellowship in 2015 are closed. The next Fellowship will be offered in 2017, and a call for applications will be made in late 2016.
The John Darling Fellowship 2015 is supported by the Herb Feith Foundation (www.herb-feith-foundation.org). It was first offered in 2013. The Fellowship is designed to offer training opportunities in Australia for emerging Indonesian documentary filmmakers to assist with the development of their filmmaking skills, commercial knowledge and awareness of archival issues.
In August 2015, two Indonesian filmmakers are being sponsored to participate in an intensive post graduate filmmaking course run at the Australian National University in Canberra. The course is being conducted by filmmaker, Gary Kildea. In addition, the students will attend sessions encompassing film distribution, marketing and archiving.
The Fellowship recipients in 2015 are Kiki Febriyanti (from Jakarta) and Ima Puspita Sari (from Yogyakarta).
The first recipients of the Fellowship in 2013 were two Indonesian women filmmakers, Chairun Nissa and Dwi Sujanti Nugraheni. Chairun Nissa is a graduate from the Jakarta Arts Institute and has made a number of short films and documentaries. Dwi Sujanti Nugraheni is the director of Yogyakarta Documentary Film Festival and program manager of the Indonesia Documentary Community.
__________________________________________
JOHN DARLING
John Darling, documentary filmmaker, was born in Melbourne, Australia, in 1946 and was educated in Canberra and Oxford majoring in History. In 1969 he commenced working in Bali for some 20 years. His in-depth participatory research into this unique culture led to many requests to assist filmmakers working in Bali.
In 1978 he directed his first documentary Lempad of Bali with Lorne Blair, which tells the life of a 116-year-old Master Artist I Gusti Nyoman Lempad and won the Documentary award at The Asian Film Festival in 1980. Also, it was screened on PBS, BBC2 and ABC. Next Darling, who is fluent in both Indonesian and Balinese, directed three separate one-hour films that link together to form the Bali Triptych series. The Mountain to the Sea, The Path of the Soul and Demons and Deities, showing the history, life rites and religious practices of the island. Both Lempad of Bali and the Bali Triptych series were screened on ABC - TV.
In 1985 Darling directed a film with John Moyle, which juxtaposed the Hash House Harrier's international gathering in Bali with the gentle Balinese rituals coinciding at that time of year. Called Bali Hash it was screened on SBS and is used extensively in tertiary institutions for its insight into expatriate behavior in SE Asia.
Also in the 1980s he produced and directed a 30-minute and another one hour film. One was for Film Australia's The Human Face of Indonesia series entitled Master of the Shadows and the other an episode called The Five Faces of God for the BBC, PBS and ABC.
The on-going issues surrounding Indonesian fishermen who stray into Australian waters and are often sentenced to serve time in Australian jails, led to Darling's adventurous film in 1992 called Below the Wind which was screened on ABC and France 3. This film includes sequences filmed at One Arm Point, northwest WA, and Maningrida and Elcho Island in the Northern Territory.
He has also written books on Bali that include Walter Spies and Balinese Art and ABC Guide to Bali.
John Darling's ninth documentary The Healing of Bali focuses on the 2002 Bali bombings, and is a culmination of over 30 years of being associated with this part of Indonesia. John and his wife, Sara, drew on their personal savings to shoot this film. In an age of terrorism, Darling drew upon his background and links with his many friends and associates in Bali to show the long history of tolerance on this small island, as a living example to the world.
The Healing of Bali was screened at Cinematheque Francaise in Paris and was introduced by the ethnographic documentary legend, 86-year-old Jean Rouch. Unfortunately this was Rouch's last public appearance as he was killed in a car accident in West Africa 11 days later.
Darling was a lecturer in Media Studies at Murdoch University in Perth from 1990 and became a Visiting Fellow at the Australia National University in the Anthropology department of the Research School of Pacific and Asian Studies in 2001. He has acted as a consultant on many projects for former students, anthropologists and other filmmakers.
All of Darling's films have been screened internationally. Because of his love of Bali and knowledge of the culture, the Balinese relate to him and reveal their inner feelings, knowing that he will respect and value their disclosure.
In December 2004 a retrospective of John Darling's works were screened at the Jakarta International Film Festival to enthusiastic audiences who appreciated the recording of their history.
John Darling died in Perth, Western Australia, on 26 November 2011 after a long illness.
For an informative obituary, please see the following:
www.thejakartapost.com/news/2012/01/30/john-darling-a-healer-bali.html
Filmography
| | |
| --- | --- |
| | For Australian documentary filmmaker John Darling, the tragic events of 12 October 2002 compelled him to re-establish his links with Bali that spanned some 30 years... |
| | A re-release of an acclaimed documentary classic by John Darling - A film about the life and death of the 116-year-old Balinese Master-Artist... |
| | Three one-hour documentaries that explore the history, culture and way of life of the people of Bali. Episode 1: BETWEEN THE MOUNTAIN AND THE SEA Covering an enormous scope of history, this film explores the geological and cultural influences which have contributed to the evolution of Balinese cosmology... |