Ivo Burum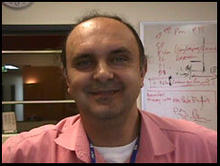 Ivo Burum has worked in the film and television industry for 20 years. Ivo came to the ABC after a background in commercial television and independent production houses. Before joining ABC-TV, Ivo was the executive producer of CAAMA Productions in central Australia, where he produced and directed documentaries for the ABC and Channel 4 in the UK.
Working for the ABC Television Documentary and Features Department Ivo developed and produced series such as Wise Up and Home Truths - the latter, a fly-on-the-wall documentary series, further developed and focused the already popular video diary style into a dramatic short form television format.
In 1995 Ivo went to Bosnia to produce and shoot a digital video documentary that was a personal journey back to his homeland. Undertaking such an intense and demanding task gave Ivo an acute awareness of the challenges inherent in video diary making.
Ivo continued travelling as a producer working on Foreign Correspondent and was the executive producer of Race Around Oz. He has recently produced a number of pilots for the ABC, and has several projects in development.
Filmography
| | |
| --- | --- |
| | The extraordinary story of the Pintupi peoples' first meeting with the white world. A small group of Pintupi living in west Central Australia today can remember their first meeting with a white man, their first impressions of the white man's world and their expectations of what the white world had to offer... |
| | A film of considerable historic importance, this documentary narrates the emergence of Indigenous broadcast media in Australia, and discusses its role in maintaining Indigenous languages and culture... |