QUEST OF JIMMY PIKE, THE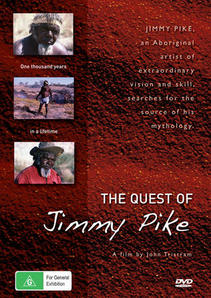 price includes GST and postage

JIMMY PIKE, an Aboriginal artist of extraordinary vision and skill, searches for the source of his mythology.
A member of the Walmatjarri tribe, Jimmy Pike walked out of the Great Sandy Desert in the remote north-west of Western Australia when he was 14 years old.
Today his exciting, brilliantly coloured prints and paintings can be seen in every state gallery in Australia. Most major department stores carry a wide range of sportswear, bed linen and other items bearing his innovative designs. Overseas, his work has achieved extraordinary popularity.
This success allowed Jimmy Pike to live the sort of life he valued most. With his wife, Patricia Lowe, a former prison psychologist, he spent many years living in a bush camp on the edge of his traditional lands, painting, hunting and exploring.
But things were not always so good. Like the waterhole mythologies of his childhood, Jimmy Pike's adult life was a story of displacement and disappointment, renewal and regeneration.
He first took up painting in 1980 while serving time in Fremantle gaol for a tribal killing. He had been told by another prisoner that painting was a way to make money. In the prison art workshop, Jimmy Pike met art teachers Steve Culley and David Wroth who recognised and fostered his special talent, teaching him the technical skills involved in lino-cutting and printing. It changed his life.
As a traditional singer, dancer, story-teller and artist, Jimmy Pike helped to maintain the cultural integrity of his people. Within his own group, he commanded respect, unaffected by his 'white man's success', and was a source of inspiration to a great many others.
Directed, edited and produced by JOHN TRISTRAM and I. JAMES WILSON
Script - PAT LOWE
Narrator - BOB MAZA
Music – BOB DAVIES, RICK CHANWICK
Cinematographers – GEORGE GITTOES, PHIL PIKE, IAN PUGSLEY, SIMON SMITH
Produced with the assistance of the Australian Film Commission
© Juniper Films, 1989