Anne Pratten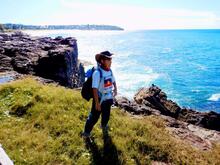 Annie Pratten's birth mother was raised among the Saltwater Mangroves in the Tweed River of Bundjalung Country. In 1957, when Annie was born, she was adopted into a white family who livedd on the Saltwater Mangrove and Sandstone Country of the Gadigal peoples, a thousand miles south onin the Eora NationCountry.
Like saltwater and sandstone, activism permeated and informed Annie's life from an early age. In particular, she gravitated towards groups supporting Land Rights, and exposing the tyrannies of unbridled capitalism, colonisation and incarceration, environmental vandalism, racism, sexism, m and homophobia discrimination and unbridled capitalism..
From 1983 until she moved to South Australia in 2000, Annie was involved in various roles with Link Up NSW, the first organisation in Australia working tofor reuniteing and supporting Aboriginal adults who by whatever means had been removed from family, culture and Country. Through Link Up she also was also findinglocated the files for those removed by the Aboriginal Welfare Board and was part of the 1996-97 National Inquiry into the Removal of Aboriginal and Torres Strait Islanders from their families. In response to the inquiry, Link Up published "The Bringing Them Home Report", a publication to which Annie contributedwas a contributor.
From 1984 to '88, Annie visited many different Aboriginal communities whilst doing a traineeshiptraining with ethnographic filmmakers and videographers and video makers at the Australian Institute of Aboriginal and Torres Strait Islander Studies in Canberra from 1984 to 1988.
In 1988, Annie was then accepted into the Australian Film Television and Radio School. After writing, directing and editing Terra Nullius, Annie graduated from the Australian Film Television and Radio SchoolAFTRS in 19923 and was the first Aboriginal person to do so.
She edited and consulted on various short films for Blackfella Productions, SBS and the Australian Film Commission.
However, despite various opportunities, Annie has never directed since. She believed at the time that she could not continue in filmmaking and stay remain sober.
In 1994, through another activist and adoptee, Annie discovered bush regeneration, a way of looking after and being looked after by Country. Such work also gave her the freedom to come and go when other causes called.
Annie then spent many years in South Australia with her former partner who ia a grandmother. Through this relationship she inherited grandchildren whom she has helped raise. A raising grandchildren whom she inherited through her former longterm partnershipAnnie with their biological grandmother and still sees themremains close to the kids today. Whilst in SAthere, she also worked as an Aboriginal Education Worker in primary schools and trained as a massage therapist.
Annie returned to Sydney in 2009 to be to be closer to her adoptive mother and remains there to advocate for and support her adopted brother. She is still working as a bush regenerator in the Sandstone Cradle of Gadigal Country.
Filmography
| | |
| --- | --- |
| | RE-RELEASE OF AN ACCLAIMED FILM FROM 1992, RE-MASTERED FROM THE ORIGINAL FILM NEGATIVES. "In evoking what an Aboriginal child goes through when disconnected from family and taken into foster-care, this film is ahead of its time in its treatment... |