Anna Cadden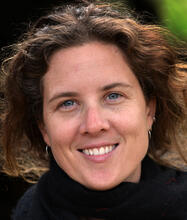 Anna has 18 years' experience working in remote locations with First Nations people across Queensland, Northern Territory, Western Australia and South Australia, facilitating the production of hundreds of local films and providing film and local broadcasting training.
Anna created and produced the ground-breaking ABC Indigenous
comedy series, 8MMM Aboriginal Radio with Brindle Films and Princess Pictures. She produced the ICTV series Our Place in 2015, and 2 seasons of Card Stories in 2016 and 2018. Anna produced PAW Media's Yarripiri's Journey for NITV in 2018 and was the Line Producer on the feature documentary Finke: There and Back that premiered at 2018 Sydney Film Festival.
As well as producing, Anna is an established cinematographer of documentaries, including Aboriginal Rules (2007, ABC), Queen of the Desert (2012, ABC2), Yarripiri's Journey (2018, NITV).
Filmography
| | |
| --- | --- |
| | "We do not want to be invisible anymore. We are not just numbers." Not Just Numbers is an inspiring documentary about the Tangentyere Women's Family Safety Group in Alice Springs... |