Rebecca McElroy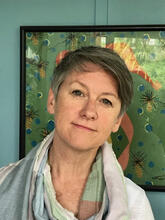 In 2013 Rebecca co-wrote, co-directed and co-produced the highly successful ABBA: Bang-A-Boomerang for ABC 1. Documentary remains her favourite genre, and she has worked with numerous independent filmmakers including Cathy Henkel, Peter Hegedus, Randall Wood, Nick Torrens, Cathy Beitz and Peter Hegedus.
In 2018, Rebecca was Field Producer for Smith and Nasht's Joyride directed by Randall Wood, which screened on ABC TV as well as internationally. She was Line-Producer for Gulliver Media's The Lost Years: A Sea Turtle Odyssey, and The Worm Hunters again directed by Randall Wood for ABC TV, Nat Geo Channels US. She also Line Produced Virgo Productions Show Me the Magic and Rise of The Eco Warriors, both directed by Cathy Henkel. Rebecca was a Field Producer for the top rating Channel 7 series, RSPCA Animal Rescue.
Public sector production includes Producing/Directing digital stories for the Federal initiative, Our Health Our Community; The Yarning Circle for the Aboriginal & Torres Strait Islander Disability Network Queensland; and A Place to Call Home, for Queenslander's With Disability Network.
Over a long and diverse career, Rebecca has worked on projects for ABC, SBS, PBS, BBC and ARD Germany. She has written and directed short films, which have been screened at national and international festivals including Flickerfest and the St Kilda Film Festival.
She lectures in Documentary at JMC Academy, is a sessional lecturer at Griffith University Film School and is currently undertaking a Graduate Diploma in Communication for Social Change through the University of Queensland. Rebecca's experience across a wide variety of projects now drives the development of a number of her own projects; while she continues her successful collaboration with both Peter Hegedus and Randall Wood on a number of projects.
Filmography
| | |
| --- | --- |
| | WINNER! Best Documentary, Hungarian Film Critics Award. Nominated for BEST DIRECTOR of a Documentary Feature, Australian Directors' Guild Awards, 2020... |
| | Az Ausztráliában élő 84 éves Lili történetét ismerhetjük meg a filmben, aki a saját és családja életét alapvetően meghatározó traumákat hordoz magában... |