Alison Wotherspoon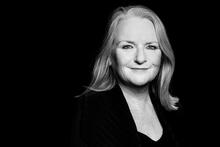 After graduating from UNSW Alison worked in film and television at the BBC, Film Australia, ABC, and SBS, studied Producing at AFTRS and briefly worked as an independent producer in Sydney.
In 1997 Alison moved to Adelaide to teach Screen Production at Flinders University. While at Flinders she was Head of Screen and Media, Teaching Program Director of Creative Arts and became an Associate Professor in 2017.
While at Flinders Alison continued to produce, write and direct evidenced based, educational, non-broadcast documentaries, docudramas and commercials on subjects ranging from bullying, refugees, ASD, Alzheimer's to learning Italian.
Her Creative Practice PhD "From Evidence to Screen " produced a model for documentary production funding through university and non-screen funding agencies. Her educational resource Come into My World, about Alzheimer's was nominated for an ATOM award in 2009.
Alison has taught internationally at Butler University, Indianapolis, CUHK (Chinese University of Hong Kong), HK Academy of Performing Arts and FAMU, Prague.
Alison returned to independent producing in 2019 and established Shining Catalina Productions Pty Ltd with internationally renowned documentary director Anne Tsoulis. Alison and Anne have a slate of documentary projects in development.
Alison is on the board of the Mercury CX, a member of SPA (Screen Producers Australia), a corresponding member of CILECT (Centre Internationale de Liaison des Ecoles de Cinema et de Television), the secretary of Adelaide Swords Club, and is currently working as an as an independent producer.
Alison also enjoys epee fencing in her spare time.
Filmography
| | |
| --- | --- |
| | Through one woman's experience as an adopted person and also as a mother who relinquished her child in 1971, this documentary highlights the many complex issues associated with adoption... |
| | RE-RELEASE OF AN ACCLAIMED FILM FROM 1992, RE-MASTERED FROM THE ORIGINAL FILM NEGATIVES. "In evoking what an Aboriginal child goes through when disconnected from family and taken into foster-care, this film is ahead of its time in its treatment... |