GAMARADA
Year: 2012
Classification: Exempt - Ronin Recommends: PG
Runtime: 25 min
Produced In: Australia
Directed By: Mark Taylor
Produced By: Mark Taylor, Mark Carroll
Language: English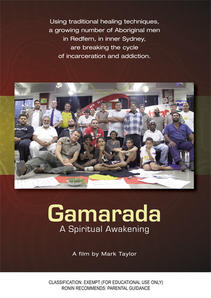 price includes GST and postage

The inner Sydney suburb of Redfern is the urban stronghold of Aboriginal Australia. In recent years, Redfern is changing and so are the men in its community. An innovative healing and leadership group of Aboriginal and non-Aboriginal men has been meeting regularly to confront their issues with anger, addiction and loss of culture.
Using a combination of traditional eastern, western and Indigenous healing techniques and philosophies, the group is transforming the lives of men recently released from jail or fighting addictions. The program empowers these men of all ages to find their voice and to regain connection to their Aboriginal identity and culture.
The GAMARADA story is a prime example of how Aboriginal and Torres Strait Islander men across the country are taking back power and place in community, lost through decades of European colonisation. This is the story of their individual journeys and the regaining of their roles as men in community.
---
"For most people, when they come into a healing environment, if they sit down, listen and share stories, they find that Culture re-emerges." - Dr Tom Calma, AO.
Related files