LOCKHART FESTIVAL [from the AIATSIS Collection]
Year: 1974
Classification: Exempt - Ronin Recommends: G
Runtime: 33 min
Produced In: Australia
Directed By: Curtis Levy
Produced By: Curtis Levy
Language: English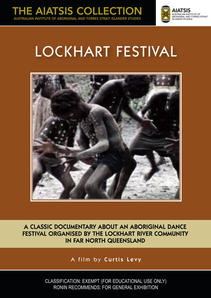 price includes GST and postage

This film presents atmospheric and visually dramatic impressions of a four-day dance festival organised by the Aboriginal community of Lockhart River, on the far north Queensland coast.
Over 100 dancers from 8 tribal groups fly into Lockhart by light aircraft from as far afield as Groote Eylandt in north-eastern Arnhem Land, and Kowanyama, Edward River, Aurukun and Umagico in Cape York. Far away from their homelands, many of the dancers meet other tribal groups for the first time, and new relationships are forged between communities.
Around this time, the Aboriginal Theatre Foundation had sponsored a number of dance festivals throughout Northern Australia, and this was the second at Lockhart. Co-chairman of the Lockhart festival committee, Jerry Pascoe, speaks to the camera about his responsibilities as host, especially to people who had never been to Lockhart before.
A large camping ground is established on the beach for the visitors, and special rehearsal grounds are cleared for each group in the bush, allowing them to prepare in seclusion. The dances tell traditional stories – of the frill-necked lizard, the kangaroo, the shark - and are enhanced by elaborate body decorations and spectacular body-painting. The dances are beautifully photographed by cameraman Richard Tucker, with carefully recorded original sound, although the filmmakers were somewhat constrained by not being able to shoot at night when many dances were performed.
Although filmed under difficult conditions, and at short notice, the film is a little-known gem and is an excellent example of the films made by Curtis Levy for the Australian Institute of Aboriginal Studies (now AIATSIS).
ADDITIONAL RESOURCE: the DVD includes an interview with director, Curtis Levy (recorded in July 2013), about the making of the film.
Produced and directed by Curtis Levy
Photography Richard Tucker
Editor Ronda MacGregor
Sound Kevin Kearney, Bryan Butler
Narrator Curtis Levy
Anthropological Consultant Athol Chase
Associate Producer and Anthropological Adviser John Von Sturmer
An AIAS Film Unit production - 1974 - English dialogue and narration
Ronin Films wishes to advise Aboriginal and Torres Strait Islander people that this film may contain images and voices of deceased persons.