WAR STORIES
Year: 1995
Classification: PG
Runtime: 88 min
Produced In: New Zealand
Directed By: Gaylene Preston
Produced By: Gaylene Preston
Language: English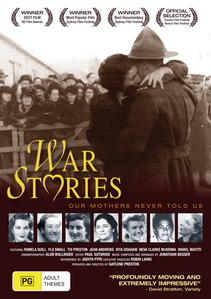 price includes GST and postage

This re-release in a re-mastered form of Gaylene Preston's great documentary from 1995 is an occasion to be celebrated.
Seven older women recall their personal experiences of World War II. One at a time, with minimal editorial interruption, they face the camera and speak intimately about the impact of the war on their lives. There are newsreel clips and vivid contributions from the story-tellers' photo albums, but what renders these stories enthralling is the more fundamental allure of revelation stacked upon revelation.
The film begins with a tale that is almost familiar, the tragic love story of a passionate young woman and a dashing, daring man that has the appearance of an oft-told romance. But as the film progresses the tales become more and more unexpected and the feelings much less classical.
As they unfold, what is discovered in these stories is emotion that has been long repressed in pain, smothered in shame, or disregarded as insignificantly personal in the context of the international disaster of war. One of the stories, in fact the story of the filmmaker's own parents, later became the focus of Gaylene Preston's extraordinary feature film, Home by Christmas (2009, also available from Ronin Films)
---
"PROFOUNDLY MOVING AND EXTREMELY IMPRESSIVE" - David Stratton, Variety
---
"Gaylene Preston takes a simple idea and turns it into a rich, universal experience proving that there is nothing more beautiful than the human face talking from the heart." - Kevin Thomas, LA Times
---
"UPLIFTING ... Gaylene Preston has assembled a revealing film of the war years that goes beyond mere nostalgia." - The Age, Melbourne
---
WINNER BEST FILM NZ Film Awards
WINNER Most Popular Film, Sydney Film Festival
WINNER Best Documentary, Sydney Film Festival
OFFICIAL SELECTION Toronto Film Festival
OFFICIAL SELECTION Venice Film Festival
Related files