Gaylene Preston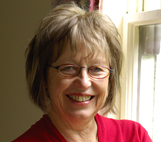 Gaylene Preston is a leading filmmaker of Aotearoa/New Zealand celebrated for her exceptional career spanning more than four decades telling important stories with humour and warmth. An innovative writer, director and producer, Gaylene has insisted that it is possible to live in New Zealand and contribute culturally specific stories to global cinema.
Many of her films are New Zealand classics including Mr Wrong, Ruby and Rata, Bread & Roses, War Stories Our Mothers Never Told Us, Perfect Strangers, Lovely Rita, Home By Christmas and My Year with Helen.
Her award-winning work has screened widely at international festivals including Venice, Sundance and Toronto and her work has garnered many awards for producing and directing including Best Film for War Stories at the NZ Film and Television Awards and Best In Show for Perfect Strangers in the Toronto Female Eye.
In 2001 Gaylene was the first filmmaker to receive an Arts Foundation Laureate Award and in 2002 she was appointed an Officer of the NZ Order of Merit for services to film making. She has received lifetime achievement/industry contribution awards from leading film organisations as well as Women of Influence and New Zealander of the Year arts category awards.
In 2018 Gaylene was the first filmmaker to take up a Visiting Scholar resident position at The Intellectual Hub at Jesus College, Cambridge UK.
Her most recent feature film, My Year With Helen, had its World Premiere at the Sydney International Film Festival in 2017 and its US Premiere at the prestigious Athena Womens' Film Festival in New York in 2018. It has also screened in the Flying Broom Women's Film Festival in Turkey and the St Tropez Film Festival in France and was showcased at the DMZDocs International Film Festival in Korea. Having been translated into seven languages to date, it is currently touring the world featured in a series of event q&a screenings in Geneva, San Francisco, Google Campus in Palo Alto, London, Cambridge, Washington DC, Berlin, Madrid, Barcelona, Mexico City, Santiago, Bogota, Bangkok, Ha Noi and many more.
In 2014, Preston wrote, directed and produced the 6-hour mini-series Hope and Wire, a drama set in the aftermath of the 2010/11 Christchurch earthquakes, for TV3. And in 2018, she made the short film Hot Words and Bold Retorts for the Auckland Museum "Are We There Yet?" exhibition in celebration of 125 Years of Womens' Suffrage in NZ.
Gaylene has served on most film industry boards, including the New Zealand Film Commission, the NZ Film Archive and New Zealand On Air, and has chaired Creative New Zealand's Film Innovation Fund and the New Zealand Film and Television Awards Society. She currently chairs the Wellington Independent Artists Trust. At the same time, as evidenced in her executive producer credits of many award-winning films, including Annie Goldson's Punitive Damage, Brita McVeigh's Coffee, Tea or Me? Michelle Savill's Ellen is Leaving and Paora Joseph's Tātarakihi - The Children of Parihaka, her generosity of spirit and her powerful mentorship and advocacy skills have been central to the development of New Zealand's contemporary filmmaking community.
Ngā Taonga, The New Zealand Film Archive, holds viewing copies of many of Gaylene's films as well as a collection of material that has been written about her. For more information and access to downloads of much of her oevre visit www.gaylenepreston.com/ where a full filmography is available.
In January 2019 Preston was honoured to become a Dame Companion of the New Zealand order of Merit. Her investiture will be held at a time to be announced.
Filmography
| | |
| --- | --- |
| | This re-release in a re-mastered form of Gaylene Preston's great documentary from 1995 is an occasion to be celebrated... |
| | "I grew up after the War and when I was a little girl it felt like there were always three times: there was 'before the War' and 'after the War' and there was another time that was almost like a secret place called 'during the War'... |