MARN GROOK [from the CAAMA Collection]
Year: 1996
Classification: G
Runtime: 45 min
Produced In: Australia
Directed By: Steve McGregor
Produced By: Shane Mulcahy
Language: English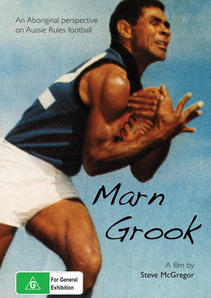 price includes GST and postage

MARN GROOK explores the history, achievements and struggles of Aboriginal sportsmen involved in our National game, 'Aussie Rules'.
Through perseverance, natural ability and a love for the game, Aboriginal players have been able to overcome the many barriers placed before them to gain recognition and respect for their prowess on the football field. MARN GROOK is a celebration of Australian Rules and the great contribution Aboriginal players have made to the game.
Narrator - ERNIE DINGO
Director - STEVEN McGREGOR
Producer - SHANE MULCAHY
Executive Producer - DAVID JOWSEY
Writers - STEVEN McGREGOR, SHANE MULCAHY
Camera - WARWICK THORNTON
Sound recordist - DAVID TRANTER
Editor - NICOLAS LEE
Music - WARUMPI BAND, YOTHU YINDI, ARCHIE ROACH
Original Music - MARK OVENDON
Produced with the assistance of Film Victoria
Produced with the assistance of South Australian Film Corporation
Produced with the assistance of the Australian Football League
Produced by CAAMA (Central Australian Aboriginal Media Association) based in Alice Springs.