GROWING CITIES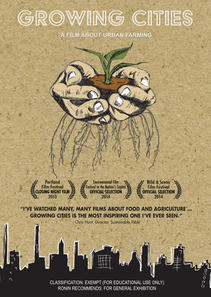 price includes GST and postage

2 VERSIONS AVAILABLE ON THE ONE DVD: Theatrical version (92 mins) and Broadcast version (58 mins).
From rooftop farmers to backyard beekeepers, Americans are growing food like never before. Growing Cities tells the inspiring stories of these intrepid urban farmers, innovators, and everyday city-dwellers who are challenging the way the USA grows and distributes its food. From those growing food in backyards to make ends meet, to educators teaching kids to eat healthier, viewers discover urban farmers are harvesting a whole lot more than simply good food.
"I'VE WATCHED MANY, MANY FILMS ABOUT FOOD AND AGRICULTURE ... GROWING CITIES IS THE MOST INSPIRING ONE I'VE EVER SEEN." - Chris Hunt, Director, Sustainable Table.
DIRECTOR'S STATEMENT
Growing up planting pumpkins in my backyard with my mom and dad, I've loved gardening since a young age. I found great joy and responsibility in taking care of plants and reaping their harvest each year. Yet, many people in our country are not so lucky to have these experiences. Instead, they hear stories about a much different food system—one that is measured in e-coli outbreaks, food miles, mad cows, and overweight kids. This food system, the popular media likes to tell Americans, is pretty screwed up. I am making this film to start a new dialogue around food in this country that emphasizes positive stories around food and farming, and shows what is possible regardless of who you are, where you live, or what kind of space you have.
Urban agriculture is a topic fraught with apparent contradictions—where country meets city, cement cherry tomato, and the lines of producer and consumer, farmer and customer blur. The imagery is equally as stark—cucumbers peering through chain link fences, skyscrapers towering over compost piles, and the cacophony of subwoofers and roto-tillers on the same block. It's the power of this tension, this seeming impossibility, which we use to bring viewers into a world of new possibility - where together we can create healthier, more sustainable communities.
When we first got the idea for Growing Cities a couple years ago, we started with the simple idea that anyone, anywhere should be able to meaningfully participate in their food system. It's this premise that has guided us throughout the filmmaking process, from deciding which cities to visit, what themes to explore, and which stories to tell. The journey hasn't been easy, from sleeping on floors, getting paid almost nothing, and consuming more PB & J's than anyone
should eat in a lifetime. But, being our first feature film, I guess we shouldn't have expected anything less. And who am I kidding, it's definitely all been worth it!
---
WINNER!
Best Feature Film - 2014 Green Lens Environmental Film Festival
OFFICIAL SELECTION
2014 Amsterdam Food Film Festival
2014 Princeton Environmental Film Festival
2014 Wild and Scenic Film Festival
2014Transitions Film Festival, Australia
2014 Salt Springs Film Festival
2014 Pelicarn Environmental Festival
2014 One Earth Film Festival
2014 Omaha Film Festival
2014 Moscow International Environmental Film Festival
2014 American Conservation Film Festival
2014 Crossroads Film Festival, Austria
2014 Cinema Verde Film Festival
2014 One Earth Film Festival
2014 Dominican Republic Environmental Film Festival