FIFTY YEARS OF SILENCE
Year: 1994
Classification: M
Runtime: 57 min
Produced In: Australia
Directed By: Ned Lander
Produced By: Carol Ruff, Ned Lander
Language: English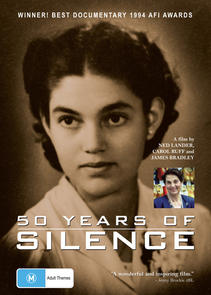 price includes GST and postage

Between 1929 and 1945 the Japanese Government, on advice from its military, forcibly removed thousands of young women and girls from their homes to provide sexual services as "comfort women" to the Japanese Army.
50 YEARS OF SILENCE is Jan Ruff-O-Herne's story. It spans five generations from a colonial life in Java, recorded on old home movies, through the war to a new start in England as a young bride and her migration, with her family, to Australia. It shows her extraordinary courage and dignity as she travels to Tokyo to give evidence at an international public hearing. After making headline news throughout the world, Jan continued to Holland to meet with other Dutch women who were similarly enslaved. Inspired by her example they too decided to make their stories public.
This outstanding documentary tells Jan's story with grace and power and shows how a suburban grandmother changed recorded history and became an inspiration to others through her faith, courage and inner strength.
"A wonderful and inspiring film" - Jenny Brockie 2BL.
WINNER! Best Documentary, 1994 AFI Awards
WINNER! Best Documentary, 1995 Logie Awards