LAST WRIGHT, THE
Year: 2008
Classification: Exempt - Ronin Recommends: G
Runtime: 52 min
Produced In: USA
Directed By: Lucille Carra
Produced By: Lucille Carra, Garry McGee
Language: English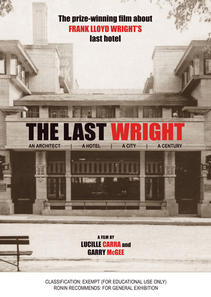 price includes GST and postage

An award-winning film about the architect Frank Lloyd Wright and the story of the last hotel he designed. In Mason City, Iowa, Wright was commissioned to design a city block encompassing a bank and hotel facing the city park. Soon scandal and tragedy ruined his career but the Park Inn Hotel still stands as one of his last Prairie-style structures. This documentary, by New York filmmaker Lucille Carra, looks at Wright's last hotel in the context of his career and style, and considers the challenges facing the preservation of architectural heritage.
---
By 1908, Frank Lloyd Wright was considered the most innovative architect in Chicago. He travelled to Mason City, Iowa, to design a unique business block - a bank and an adjoining hotel, facing a park. Soon, scandal and tragedy would ruin his career, but the Park Inn Hotel would remain, one of his last Prairie style structures. The Last Wright addresses sustainability issues as we compare the Park Inn with other Wright masterpieces in various states of preservation. The film also highlights an extensive collection of Prairie houses in Mason City, including designs by Wright's colleague, Walter Burley Griffin, completed before he left for Australia.
We trace the life, death, and possible rebirth of a Midwest downtown through the prism of Frank Lloyd Wright's last standing hotel. From 1909 to 2008, the Park Inn witnessed alterations and downgrading, while Mason City dealt with a Dillinger Bank robbery in the 1930s, the loss of industry in the 1960s, and the label 'Porn City' in the 1970s.
While the city struggled to fund renovations of the Park Inn in the 1990s in an effort at heritage tourism, it also attempted an economic revival with a 20 million dollar tribute to the musical comedy, 'The Music Man,' based on Meredith Willson's boyhood in Mason City.
As a last resort, the city decided to place the Park Inn on Ebay. Which vision of Mason City will prevail? Through an intoxicating blend of rare archival footage, period music and a first look at stunning Wright masterpieces in the Midwest and Japan, The Last Wright offers a provocative, ironic tapestry of an American century.
Directed by Lucille Carra
Based on an idea by Garry McGee
Written by Garry McGee and Lucille Carra
Narration written by Lucille Carra
Cinematography – Antonin Chundela
Edited by Brian Cotnoir, Joan Baran, Jakob, Vladimir Zan
Narrated by Robert Westfield
© Travelfilm Company and McMarr Ltd, 2008
---
"Visually stunning, smartly filmic." - WLUW, Chicago.
"An emotionally powerful argument about sustainability." - The Washington Post.
---
BEST DOCUMENTARY AWARD! Iowa Motion Picture Association
---
The filmmaker, Lucille Carra, was born in Manhattan, New York City. She is a director, producer and writer. She holds a BFA in film production and a master's degree in film from New York University's Tisch School of the Arts. Carra has worked in the distribution and archiving of international films, including the collections of several Japanese filmmakers. Through her company, Travelfilm, she has produced, directed and written critically acclaimed cultural documentaries on an international scale such as the award-winning The Inland Sea, Dvorak and America and The Last Wright. (Dvorak and America is also available from Ronin Films: see www.roninfilms.com.au/video/857/0/445.html)
The following is an extract from an excellent interview with Lucille Carra, from artdigiland.com 3 March 2021. For the full interview, visit www.artdigiland.com/blog/2021/3/1/conversazione-con-lucille-carra
"I always liked that Nicholas Ray studied with Frank Lloyd Wright. I love Wright's work, and I was fascinated by him initially because of North By Northwest, which, we know, isn't technically a Wright building! ...
"Instead of making a biopic of this remote hotel, I decided to do a comparative study to show its relationship to other Wright structures. Very early in my research, I explored the relationship between this little hotel and Wright's iconic Imperial Hotel in Tokyo. The Japan connections were very strong, and Wright was profoundly influenced by Japanese aesthetic and architecture. We shot on 16mm film, and I believe it's the last time Wright's Wisconsin home, Taliesin, was shot on film; we shot the interviews on DVCam, and Antonin Chundela gave the interviews a lovely film-like look. It actually worked better than 4K would have worked. ...
"My favorite work is Unity Temple in Oak Park, Illinois. Wright's mother was of the Unitarian faith and you really feel a spiritual pull in this space. I also love the restored Robie House in Chicago, which has a perfect blend of indoor, outdoor, ornamentation, space and light. Visiting this house, you feel an "out of body" experience - hallucinogenic, really, especially with the stained glass window placements against the outdoor light. A very interesting aspect of Wright's work are the acoustics. You could give a great piano recital in any of his buildings.
Has Frank Lloyd Wright's historic Park Inn Hotel been restored today?
"Yes it is, but it is a commercial property, which can only be as authentic as the owners allow. I've heard it's okay."