SIX DAYS IN AUGUST
Year: 2006
Classification: Exempt - Ronin Recommends: PG
Runtime: 52 min
Produced In: Australia
Directed By: Miles Roston
Produced By: Richard Green
Language: English + English subtitles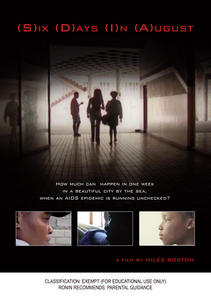 price includes GST and postage

Bill Clinton and Bill Gates demand change at the International AIDS Conference, in Toronto. Meanwhile in Durban, South Africa, host of the conference six years earlier, Zola (12) says her father died - because he liked girls. Zama (12) thinks her mother died because witch doctors were jealous of her. Velele (35) fights to stay alive, and goes to see her seven children whom she hasn't seen for four years. And Anne Leon, a self-professed white face to AIDS, is the sixth victim of the first man convicted for manslaughter in South Africa for intentionally infecting women.
On the shiny surface, Durban is like any modern city, with beautiful beaches and gleaming high-rises, such as Sydney or San Francisco. Yet at Zama and Zola's school, this year so far, 260 parents died, the year before 317, and the year before that 247. In a school of 1500 students, white, black and Indian.
Stephen Lewis, UN Special Envoy to Africa says "nothing will stand out more in the judgement of history than the toll on women, old and young" and Bill Gates that all women have the right to protect themselves. But men in Durban say that having unprotected sex is like eating a banana unpeeled, and taxi drivers wait outside Zola and Zama's school to give alcohol and something else to girls their age .
A dramatic experiment in real time, (S)ix (D)ays (I)n (A)ugust day by day juxtaposes the AIDS Conference with the realities of "life on the ground", showing just how much can happen in a week, as we follow Zola as she tries to get into school, Zama trying to find out the truth about her mother's death, and Velele trying to stay HIV "positive", and heading towards a nervous breakdown. While discovering the attitudes of the population at large; as one white man says, AIDS is caused by white men having sex with African ladies, twelve years after the transition from apartheid in the city at the epicentre of the epidemic. In the country where Nelson Mandela hoped for the promise of the "Rainbow Nation", will that promise succeed or fail?
---
Director Miles Roston worked with students from the heavily infected area of KwaMashu, and a South African crew, having done preproduction and auditioning 6000 children for a feature film. His previous films include 14 Million Dreams and Make It Real (to me) for the Sundance Channel, Australian Broadcasting Corporation, and TG4, both of which have won and been nominated for awards. His book, Kevin's Questions, with a foreword by Archbishop Desmond Tutu, has been released by Exisle Publishing in Australia and New Zealand, and will be published in the US by Carroll and Graf in the USA in 2008.
South African Producer Richard Green produced Struck By Lightning and Wooden Camera, and line produced Krakatoa: Volcano of Destruction for the BBC, as well as Red Dust, starring Hilary Swank and Chiwetel Ejiofor.
---
Follow this link to view a trailer of this title along with others for use in support of overseas aid programmes: www.youtube.com/watch?v=hl1yF7wgcL4
---