DVORAK AND AMERICA
Year: 1999
Classification: Exempt - Ronin Recommends: G
Runtime: 56 min
Produced In: USA
Directed By: Lucille Carra
Produced By: Lucille Carra, Brian Cotnoir
Language: English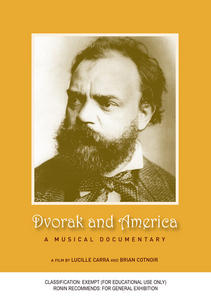 price includes GST and postage

On 26 September 1892 when the Czech composer, Antonin Dvorak, arrived in New York to direct the National Conservatory of Music of America, he was given the daunting task of creating a school of music for a young nation boundlessly confident in its resources, but still looking to Europe for a sense of identity.
When Dvorak pronounced that America already had a source for national music - 'based on Negro melodies' - he not only sparked controversy but invigorated an already burgeoning community of African-American musicians.
Through a colourful and provocative mix of film, poignant first-person accounts, priceless archival material and a treasure trove of music, Dvorak and America takes us on a surprising journey from Harry T. Burleigh's renderings of plantation songs and the creation of 'The New World Symphony' to the twentieth century and the birth of the Broadway musical with Will Marion Cook's 'In Dahomey'.
---
The filmmaker, Lucille Carra, was born in Manhattan, New York City. She is a director, producer and writer. She holds a BFA in film production and a master's degree in film from New York University's Tisch School of the Arts. Carra has worked in the distribution and archiving of international films, including the collections of several Japanese filmmakers. Through her company, Travelfilm, she has produced, directed and written critically acclaimed cultural documentaries on an international scale such as the award-winning The Inland Sea, Dvorak and America and The Last Wright. (The Last Wright is also available from Ronin Films: see www.roninfilms.com.au/video/824/0/2254.html)
The following is an extract from an excellent interview with Lucille Carra, from artdigiland.com 3 March 2021. For the full interview, visit www.artdigiland.com/blog/2021/3/1/conversazione-con-lucille-carra
"Dvorak and America is an example of a film I wanted to make that was pure inspiration. I live near the brownstone where Dvorak wrote the Symphony from The New World (Symphony No. 9 in E Minor.) One day in The Inland Sea, our van was stuck in the mud on a hill, and we suddenly heard chimes playing the "Going Home" theme (Japan has a lot of chimes on train stations, crosswalks, etc.) I thought of the universality of the music, and I started researching. I liked that Dvorak lived in my neighborhood and made daily walks down Broadway to my street to drink beer at the cafe. It was a lot of work to properly research the film, because when we started, the Iron Curtain had just recently fallen. The archives opened up more and more, each year. We were the first U.S.-Czech Television documentary co-production. I also was able to make contact with the "Czech Film Office" which was a holdover of the Communist era. It was fascinating to meet filmmakers in a country we had been prohibited from visiting for the previous 40 years or so. We processed some film there and also at Hungarian FilmLab in Budapest! ...
"Dvorak's relationship to his African-American students had never been told on screen before and is still little known. Harry T. Burleigh, America's greatest Art Song composer, and Will Marion Cook, who composed the first Broadway musical, were among his classical students (although Burleigh was his copyist and an informal student). There was so much musical action around New York City in the late 1800s and we don't know much about it. Educational television stations in the U.S. do not want to fund films about periods before the advent of motion pictures. I hope we can rectify this and make more films about these earlier periods, even if footage doesn't exist. ...
"Dvorak was a profound lover of nature, and would take long walks at 5:00 am. I wanted to get that quality through the cinematography (by Hiro Narita). I wanted to work with Allen Moore with the interviews because he did signature work with the American documentarian Ken Burns. Since our interviews took place at different times and locations, I worked around his schedule. Hiro wasn't available for the Czech Republic shoots, so Antonin Chundela, who was graduating from FAMU, the famed Czech film school, was recommended. He is an example of the talent and craftsmanship of FAMU, and he studied Hiro's and Allen's work to give the film its uniform look. I learned a lot about FAMU and Eastern European cinematography while I was in Prague. In the 1990s, you could still justify shooting a documentary on film, so we even shot the archival stills on film, and did not scan them. We really need to preserve older independent documentaries that were shot on film and have very interesting visuals and audio work in their outtakes."
Related files
Permalink: https://www.roninfilms.com.au/feature/445