LAND BILONG ISLANDERS
Year: 1990
Classification: G
Runtime: 52 min
Produced In: Australia
Directed By: Trevor Graham
Produced By: Sharon Connolly
Language: Meriam and English dialogue, English subtitles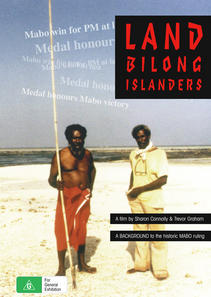 price includes GST and postage

LAND BILONG ISLANDERS tells the story of what has become known as the 'Mabo Case'. It contains rare interviews with the late Eddie Mabo, James Rice, Father Dave Passi and others involved in this historic legal drama. Together they challenged the idea that prior to European settlement, Australia was a land belonging to no-one, a 'terra nullius'.
The film follows Queensland's Supreme Court to Murray Island, the centre of a legal battle which forever altered relationships between black and white in Australia.
Murray Island, or Mer, lies to the north of the Australian mainland. There, in 1989, three Islanders questioned the very basis of European settlement of Australia in evidence given in their community hall, a temporary but exotic courthouse.
Koiki 'Eddie' Mabo, James Rice and Father Dave Passi claimed that they, not the State of Queensland, owned island land. They argued that since time immemorial, their families had owned that land. Those property rights, they said, were not extinguished when Murray Island was annexed to the then British colony of Queensland.
In June 1992, ten years after proceedings in the Mabo Case began and only months after Eddie Mabo's untimely death, the High Court of Australia ruled that Islanders' rights to land on Murray Island had survived European colonisation. The doctrine of 'terra nullius' was overturned and the principle of native title is now established in Australian law.
Writer, Director - TREVOR GRAHAM
Producer - SHARON CONNOLLY
Narrator and "Law Report" Presenter - JON FAINE courtesy of ABC Radio National
Cinematography - JOHN WHITTERON
Editor - KEN SALLOWS
Sound Recordist and Sound Editor - BRONWYN MURPHY
Music - MARTIN FRIEDEL, the people of Murray Island, and Torres Strait Media Association
Produced with the assistance of the Australian Film Commission and Film Victoria
(c) Yarra Bank Films Pty Ltd, 1990