WALKING DANCING BELONGING [from the CAAMA Collection]
Year: 2007
Classification: Exempt - Ronin Recommends: G
Runtime: 22 min
Produced In: Australia
Directed By: Mitch Torres
Produced By: Mitch Torres
Language: Mirriwoong with English subtitles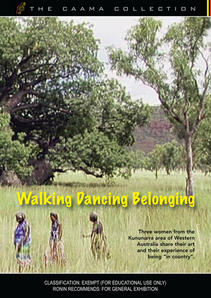 price includes GST and postage

Produced in association with Waringarri Aboriginal Arts at Kununurra in Western Australia, this moving documentary features three women who talk about their paintings as an expression of their relationship to their country. The women share a sense of belonging to their place and express this belonging through dance and song and all of their artistic expressions.
On a trip into the bush around Cockatoo Lagoon near Kununurra, they explain the stories of their Dreaming and of their land, and talk of their own experiences growing up as workers on stations in the area.
Each artist talks about why they paint – to teach and to share stories about their country with others in the community and wider afield. The film also observes them working on paintings, each giving her personal interpretation of a loved environment and a living culture. The paintings are all very different in style but all express a life-affirming sense of identity intimately linked to their own country.
---
Featuring: Phyllis Ningarrama, Peggy Griffiths and Minnie Lumai
Director - MITCH TORRES
Camera operator - BRETT APPO
Camera mentor - JASON RAMP
Translator - FRANCES KOFOD
Music - KEITH SKINNER
Sound recording - NEVILLE KHAN
Editor - Dena Curtis
Series producer - Barbara Clifford
Executive producer - Rachel Clements