WOLF IN AUSTRALIAN ART, THE
Year: 2015
Classification: Exempt - Ronin Recommends: G
Runtime: 42 min
Produced In: Australia
Directed By: Richard Moore
Produced By: Richard Moore
Language: English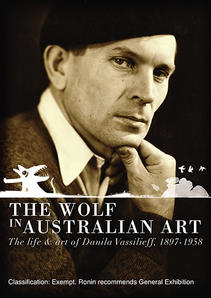 price includes GST and postage

Danila Vassilieff was a pivotal figure in the emergence of Modernism in Australian art. He was also a Russian - a bold cossack from South Russia, and a defender of the czar.
His fascinating life and profound humanity are the subject of this compelling and wide-ranging documentary. When individualism was 'in the air' in the 1940s, he liberated a group of younger painters - Nolan, Boyd, Tucker, Hester, Perceval and Blackman - to paint their own original visions. Vassilieff shaped the figurative nature of Australian art. His own emotional state drove the reality of his art and linked it to Russian folk art.
The Wolf in Australian Art is the first time Vassilieff's story has been told on film. A Shostakovich soundtrack, blended with a Russian choir and a treasure trove of archival material all add atmosphere and colour to the vivid adventures of this quintessentially free spirit as he travels from St Petersburg to London, Sydney, Melbourne, Warrandyte and Mildura.
Commissioned by Felicity St John Moore and based on her book Vassilieff and his arts, this documentary has been produced and directed by her son Richard Moore who has extensive experience as a director of film and television. A Former Head of MIFF and of ABC TV Arts, his independent documentary films include Art from the Heart?, Charles Blackman: Dreams and Shadows and Butoh: Piercing the Mask.
VIEW TRAILER HERE: vimeo.com/563454587
---
Related files