SERPENT AND THE CROSS, THE
Year: 1991
Classification: G
Runtime: 55 min
Produced In: Australia
Directed By: Chris Hilton
Produced By: Chris Hilton
Language: Kija, Walmatjarri, Kukatja and English dialogue, English subtitles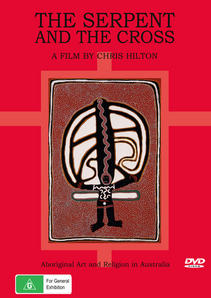 price includes GST and postage

Aboriginal Art and Religion in Australia.
In several remote communities of outback Australia, the recurring echoes of ancient Aboriginal Creation stories are being made accessible through a new type of art.
The occurrence of this syncretism is often accompanied by controversy because it offends cultural purists on both sides who see it as bastardising their pure religious form.
In the most remote spinifex plains of the Gibson Desert, we meet Tjumpo, a traditional painter and senior law man who, like many Aboriginal artists, did not take up formal painting until he was in his sixties. Through him we learn of the spiritual basis of Aboriginal art.
Amongst the tropical wetlands of Northern Australia, Miriam-Rose Ungunmerr explains how she believes that traditional beliefs and Christian beliefs can be combined and she shares her insights about motherhood.
David Downs, like Tjumpo Tjapanangka, was also born and initiated into Aboriginal law in the remote desert, but he now lives in a small outback town. With a grand theological vision, he manages to reconcile his Dreaming with the uncompromising doctrine of the fundamentalist missionaries.
The heart of the film visits the community of Turkey Creek, set amongst the skeletal ranges of the Kimberley, where Hector Djondalu, a gracious and mystical old man, takes us on a journey through the history of his people. He tells of their fight, first to survive and now to retain their culture, their attachment to the land and the dialogue of forgiveness and reconciliation for past tragedies that he has entered into.
Finally, he travels with another artist to Canberra, the capital of Australia, where he is feted at the opening of a major exhibition in the High Court of Australia, which has been organised to coincide with a large international ecumenical gathering of the Christian church. Despite his limited English, he is able to cope comfortably in this foreign world and, with immense dignity, he clearly communicates his inspiring message of reconciliation between the two religious systems.