FRAMED
Year: 2009
Classification: Exempt - Ronin Recommends: G
Runtime: 55 min
Produced In: Australia
Directed By: Clare Young
Produced By: Michael Tear, Serge Ou
Language: English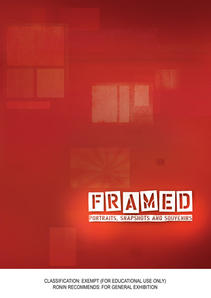 price includes GST and postage

FRAMED is about our fascination with faces. It's about portraits. But what is a portrait? Of course it's the famous painting on the gallery wall and the notorious candidate for the Archibald Prize. But isn't it also the cherished photograph you have in your wallet, at your place of work, by your bed? Isn't it the pin-up on the teenager's wall or the teenager him/herself, posted on the pages of Facebook?
In FRAMED we talk to some of Australia's leading portrait artists and photographers, people like Gary Shead, Martin Sharp, Evert Plough, Paul Newton, Robyn Sellick and William Yang. We talk to those who have sat for portraits, including scientist Professor Frank Fenner, Dr Joan Croll and Australia's eminent composer, Peter Sculthorpe.
The former director of the National Portrait Gallery, Andrew Sayers, also talks to us and we journey through the gallery to look at many of the works on display.
But portraits in an art gallery are only part of the story. We talk to an orthodox priest about icons, to members of the Facebook generation who self-portray themselves almost obsessively, to a psychologist who conducts experiments in facial recognition with babies. We meet people in a retirement home surrounded by the framed portraits of their lives, and adults in an art class, as well as children from the first years of school as they paint their first portraits.
FRAMED is a lively and thought-provoking film by young Canberra filmmaker, Clare Young, whose previous work includes many award-winning short films.