Clare Young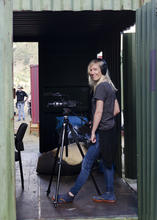 Clare Young's passion for documentary began when she made her first film at 22 years old: "Firing on all Pins" a heart-wrenching tale of her family's survival of the Canberra bushfires which was awarded first prize in the Canberra Short Film Festival.
Clare was then commissioned by ABC Stateline to produce and direct a half hour special for the program "Eyes Down and Welcome to Hay", following Wilma Robb's journey back to the detention centre where she was locked as a child.
Clare has directed and produced a number of documentary commissions including "Questioning Minds" an entertaining and educational story about the trials and triumphs of teaching science to kids for the Australian Academy of Science.
Clare spent three years developing her creative skills as a director at Canberra's Bearcage Productions, where she directed over 100 programs for a variety of clients including Australian National Museum, Old Parliament House, National Portrait Gallery, and Foxtel's Biochannel.
Clare has also worked as assistant to Jan Chapman through the post-production of "Bright Star" (2009), and produced the NSW FTO YFF funded short film "The Mirage" which premiered at Montreal Film Festival.
In 2010 Clare was awarded a $40,000 arts ACT grant for an intensive mentorship with Jane Campion. Clare was Jane's assistant throughout the development, writing, pre- production, and shoot of "Top of the Lake".
Clare is currently developing a slate of long-form projects supported by Arts ACT and Screen ACT.
Filmography
FRAMED is about our fascination with faces. It's about portraits. But what is a portrait? Of course it's the famous painting on the gallery wall and the notorious candidate for the Archibald Prize...

FROM THE BOTTOM OF THE LAKE

An intimate portrait of Jane Campion and her collaborators at work: a personal and insightful exploration of how the creative spirit can survive and flourish against all odds...