RED MATILDAS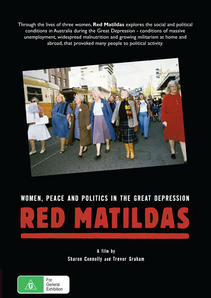 price includes GST and postage

Through the lives of three women, RED MATILDAS explores the social and political conditions in Australia during the Great Depression - conditions of massive unemployment, widespread malnutrition and growing militarism at home and abroad - that provoked many people to political activity.
May Pennefather trained to be a nurse, and in 1937, after working in both Perth and Sydney, she volunteered to go to Spain as part of a nursing unit to assist the Republican forces in the Spanish Civil War.
After graduating from Melbourne University, Joan Goodwin became interested in the Communist Party and labour issues. She spoke out publicly against fascism and war and helped volunteers for the International Brigades reach Spain safely.
Audrey Blake learnt of the Russian revolution and socialism while at school. She became a member of the Young Communist League and at the age of 20 visited Moscow with her husband and child.
Although from different backgrounds, these three women provide valuable information on Australian labour and socio-economic history, the Australian Communist Party, the Spanish Civil War, the Great Depression in Australia, women in the workforce in Australia, equal rights for women in Australia and much more.
---
Senator Susan Ryan, Minister for Education, 1984:
"The significant role women have played in Australian history has, until recently, been given less than the attention it deserves. It is therefore pleasing to see such productions as Red Matildas which records the response of three women to the major social and political forces in Australia and overseas in the 1930s. The stories of these women provide a rich picture of the past and their work, then and now, contributing to the spirit and character of Australian society.
"The women in this film are representative of the large numbers of men and women in Australia in the 1920s and 1930s who challenged the worldwide trend of growing militarism as a response to unemployment and economic depression.
"There are certain parallels to be seen in the 1980s - women all over the world are organised in their resistance to nuclear arms proliferation and on equity issues.
"I welcome the opportunity to congratulate the filmmakers for their important contribution to neglected areas of Australian history."