STILL POINT, THE - Photography of Robert McFarlane
Year: 2017
Classification: PG
Runtime: 27 min
Produced In: Australia
Directed By: Mira Soulio
Produced By: Katrina Lucas
Language: English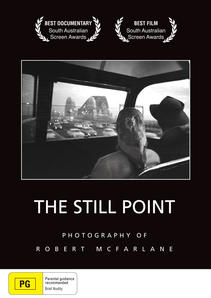 price includes GST and postage

The Still Point explores the life's work of one of Australia's most respected and pioneering documentary photographers.
For five decades, Robert McFarlane has put a mirror up to the changing face of Australia, providing a record of film and theatre during times of cultural rebirth in the 1970s and 80s with images of Cate Blanchett, Geoffrey Rush and Judy Davis early in their careers, alongside political figures, Bob Hawke and Gough Whitlam, at times of upheaval. During the formative years of the Aboriginal rights campaign, McFarlane documented Aboriginal activist Charles Perkins in one of Australia's most iconic photos.
McFarlane's own personal journey is chronicled as he reveals the tragic impact of losing his young son.
Linking archival footage and still photographic images with interviews, the film explores McFarlane's important contribution to photojournalism. His images provide a window into the lives of others, documented without sentiment or nostalgia, where the real is more potent and intriguing than anything fabricated. 


VIEW THE TRAILER HERE: vimeo.com/281543870
Director Mira Soulio
Producer Katrina Lucas
Photography Hugh Freytag, Maxx Corkindale
Editor David Scarborough
Music Lara Soulio, Sianna Lee
Produced with assistance from the South Australian Film Corporation and the Australian Broadcasting Corporation.
---
WINNER!
- Best Documentary, South Australian Screen Awards
- Best Film, South Australian Screen Awards
---
ABOUT ROBERT McFARLANE
Robert McFarlane was born in Adelaide in 1942 and has been a documentary photographer for more than four decades, specialising in social issues and documenting performance in film and theatre, mostly within Australia. He worked in London from 1969 to 1973, freelancing for the Daily Telegraph Colour Magazine, Art and Australia NOVA and the Sunday Times Colour Magazine.
For the past twenty years Robert has written critically on photography for the Sydney Morning Herald and a number of magazines from B+W to the Bulletin, Art & Australia, the Financial Review Magazine and Good Weekend.
His photographs are held in the permanent collections of the Art Gallery of NSW, the National Gallery of Australia, the National Portrait Gallery, the National Library of Australia and numerous private collections.
Robert McFarlane has been married twice, to the artist Kate Burness and to the theatre director MaryeAnn Vale. He has two children: Morgan (1974 - 1994) and Billy.
He passed away in July 2023.
Robert's work is represented by the Josef Lebovic Gallery in Sydney.
His website is www.robertmcfarlanephotos.com/
Related files