SMUT HOUNDS - Censorship in the Sixties
Year: 2015
Classification: Exempt - Ronin Recommends: M
Runtime: 9 min
Produced In: Australia
Directed By: Sari Braithwaite
Produced By: Britt Arthur
Language: English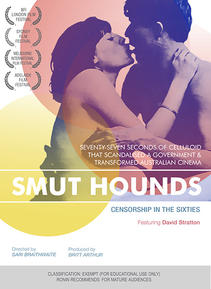 price includes GST and postage

It's a story that made headlines: "Festival Film Banned!"
In the late 1960s, the majority of films screened in Australia were censored in some way or another. DELETE the lovemaking. CUT the 'Open Mouth Kissing'. REMOVE the fondling of the breast sequence. Deemed too 'inappropriate' and 'morally corrupting' for Australian eyes, these scenes were hacked from feature films and locked away in government archives.
When young Sydney Film Festival director David Stratton attempted to program a Swedish film that the censors believed contained ACTUAL sex, a scandal erupted.
In a mash-up of never-before-seen banned clippings, SMUT HOUNDS tells the story of how seventy-seven seconds of celluloid scandalised a government and transformed Australian cinema.
"It's fabulous. Of course I know the story but this has been so beautifully constructed, marking this watershed moment in the life of Australia at the movies. It's really important to remember these moments and the role that David played in changing this country forever. Five stars from me!!" - Margaret Pomeranz
OFFICIAL SELECTION
BFI London Film Festival
Sydney Film Festival
Melbourne International Film Festival
Adelaide Film Festival