WOMEN OF THE SUN ... 25 YEARS LATER
Year: 2006
Classification: PG
Runtime: 80 min
Produced In: Australia
Directed By: Bob Weis
Produced By: Bob Weis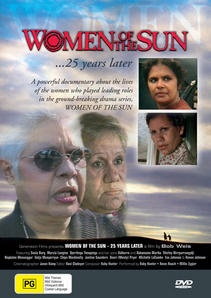 price includes GST and postage

WOMEN OF THE SUN is a remarkable drama series that screened on Australian television in 1981. It had a tremendous impact, bringing the Aboriginal story through the eyes of Aboriginal women - in their own language - to a national audience for the first time.
Twenty-five years later, Bob Weis, the producer of WOMEN OF THE SUN, sets out to find out the impact of the film on five of the women who played major roles in the original series. His journey - from Arnhem Land to the southern states - reveals a profound and moving tale of discovery, for himself and those he meets.
In the film, Bob Weis interviews renowned actor Justine Saunders, actor/playwright Eva Johnson, academic Marcia Langton, and co-writer of the original series, Sonia Borg. Remarkable footage includes Bob Weis's return to Yirrkala and Gapuwiyak where he found the cast for the first episode of the original series, and archival footage of Hyllus Maris who co-wrote the series.
Related files
Images