GREEN CHAIN, THE
Year: 2011
Classification: Exempt - Ronin Recommends: G
Runtime: 52 min
Produced In: New Zealand
Directed By: Kathleen Mantel
Produced By: Megan Douglas
Language: English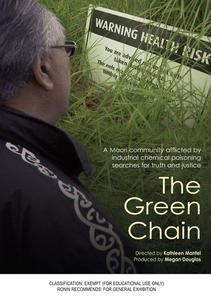 price includes GST and postage

Joe Harawira is like New Zealand's home-grown version of Erin Brockovich. He's a man who fought the powers of industry and government ... and won. A former Whakatane sawmill worker, Joe believes his exposure to poison in the workplace led to him becoming seriously ill. THE GREEN CHAIN is the saga of Joe's fight to seek the truth behind the death and sickness that afflicted his community.
In 1970, when Joe began work at the Carter Holt Harvey Sawmill in his hometown of Whakatane, he was completely unaware that he was being exposed to a cocktail of hazardous chemicals in what was called the 'greenchain' sorting of timber after it was treated at the mill.
Unbeknown to Joe and his fellow workmates, their work may have had a devastating effect on their health. Many believe that their exposure to chemicals, particularly the highly carcinogenic chemical pentachlorophenol (PCP), would result in high levels of cancers, liver disease, respiratory problems and heart disease.
The effect on the environment was just as disastrous. Thirty-six sites in the Whakatane area were contaminated by the dumping of these same chemicals. Contaminated bark and sawdust was used to level out land, and in some communities, chemicals from the waste leached into their water supply.
For three decades, Joe Harawira fought for recognition by industry and government of his community's plight. This compelling story challenges not only New Zealand's clean green reputation, but also highlights the difficulty community groups have when it comes to seeking justice and compensation from both corporate bodies and the state.
Harrowing, emotionally engaging and ultimately hopeful THE GREEN CHAIN is the story of a community group who refused to be silenced but also the story of a man who was forced to grow into a position of leadership as a result of circumstance.
The production company, Scottie Productions, is a Maori film and television enterprise that brings films about Maori life, culture and politics into the mainstream.