ASPECTS OF A LIFE: Working with Indigenous Australians
Year: 1972
Classification: Exempt - Ronin Recommends: G
Runtime: 216 min
Produced In: Australia
Directed By: Michael Edols
Produced By: Michael Edols
Language: Indigenous languages with English subtitles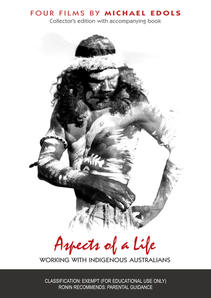 price includes GST and postage

Teachers please note: feedback has indicated that it may be useful to introduce the films to students by viewing the 2011 Director Interview first, as means of providing context for the collection.
---
The four films in the Collection have long been unavailable to the general public but are now released in digitally re-mastered form, with community approval:
LALAI DREAMTIME
(1972, 60 mins)
tinyurl.com/pf6pskn
FLOATING ... LIKE WIND BLOW 'EM ABOUT
(1975, 58 mins)
tinyurl.com/m8glw65
WHEN THE SNAKE BITES THE SUN
(1985, 57 mins)
tinyurl.com/mm94zbo
HERE'S MY HAND: A testimony to an Aboriginal Memorial
(1988, 27 mins)
tinyurl.com/l96b38k
These four films by cinematographer and filmmaker, Michael Edols represent a significant and sustained body of work, produced over 16 years, recording the culture and history of Indigenous communities, especially in the Kimberleys, in the north-west of Western Australia.
Recruited by Elders from three tribal language groups - Worrora, Wunamble and Ngarinyin – to collaborate with them in making films, Edols and the communities both recorded and reconstructed their culture, past and present, from pre-European contact (in LALAI DREAMTIME) to their present dislocated, mission-based lifestyle (in FLOATING).
This DVD collection of four films is accompanied by a short book written by Michael Edols to accompany the films and to assist with study and understanding.
The set also includes a 40-minute interview with Edols recorded in Canberra in 2011, talking about his collaboration with Indigenous communities.
The collection continues to attract strong academic interest, and Michael Edols often engages in seminars about his collaborative approach, e.g., at the University of Melbourne in May 2016.
---
Follow this link to view LALAI DREAMTIME trailer: tinyurl.com/kyvvc3c
---
Follow this link to view an excerpt of the Michael Edols interview: tinyurl.com/mmvxnko
---
Related files
Permalink: https://www.roninfilms.com.au/feature/6507