WIND
Year: 1999
Classification: Exempt - Ronin Recommends: PG
Runtime: 28 min
Produced In: Australia
Directed By: Ivan Sen
Produced By: Graeme Isaac
Language: English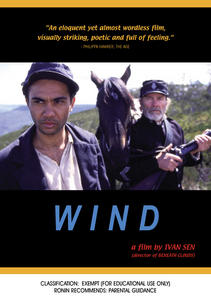 price includes GST and postage

1857, Australia. In the cold, bleak terrain of the high country, a young black tracker, Jess, and his elderly sergeant move in on the trail of a killer.
With every step closer, the killer delves into the depths of Jess's mind and soul, until ultimately, confronting him with the choice between his ancestral heritage and the only world he has ever known.
"An eloquent yet almost wordless film, visually striking, poetic and full of feeling." - Philippa Hawker, The Age.
"Beautifully shot by Allan Collins, WIND excels in storytelling through every level, with performative gestures that are beautifully directed and clever visual structure that switches, before we know it, between the minds of Jess and the killer." - Simon Hunt, Sydney Star Observer.
Permalink: https://www.roninfilms.com.au/feature/647