BENNY AND THE DREAMERS [from the CAAMA Collection]
Year: 1992
Classification: G
Runtime: 54 min
Produced In: Australia
Directed By: Ivo Burum, Philip Batty
Produced By: Ivo Burum, Philip Batty
Language: English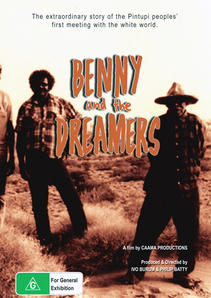 price includes GST and postage

The extraordinary story of the Pintupi peoples' first meeting with the white world.
A small group of Pintupi living in west Central Australia today can remember their first meeting with a white man, their first impressions of the white man's world and their expectations of what the white world had to offer.
BENNY AND THE DREAMERS reveals for the first time on film the Australian Aboriginal peoples' version of their first contact with white culture which was to change their traditional way of life forever. For some it was a terrifying experience, for others a fascinating view of a world which made little sense. But for all Aboriginal people, white contact brought the end of a nomadic way of life which had lasted for at least 40,000 years.
In BENNY AND THE DREAMERS, Benny Tjapaljarri and other Pintupi elders tell their stories of life before and after "whitefellas". Through the use of rare archival footage, their journey is recreated from the central western deserts to their transformation from traditional nomad in a hunter gatherer society to sedentary consumer of white flour and sugar.
Through dramatic retelling of the stories, BENNY AND THE DREAMERS weaves its way into the nightmare of assimilation that became Papunya, the killing fields of alcohol, to the eventual rejection of European life and the return of Aboriginal land at Kintore.
VIEW TRAILER HERE: vimeo.com/584744169
Narrator - Michael Liddle
Producer, Director - Ivo Burum
Executive Producers - Ivo Burum, Harry Bardwell, Phillip Batty
Production Manager - Priscilla Collins
Writer - Fionna Douglas
Editor - Nicolas Lee
Original Music - Bill Davis
Photography - Zbigniew Friedrich, John Whitteron
Camera Assistant - Warwick Thornton
Sound recording - Mark Tarpey
Additional Sound - Warwick Thornton, Leonie Dickinson, Rick Alexander, David Tranter
Produced with the assistance of the Australian Broadcasting Corporation and the Australian Film Finance Corporation Pty Ltd
© CAAMA Productions, 1992
Permalink: https://www.roninfilms.com.au/feature/480