ART OF HEALING, THE [from the CAAMA Collection]
Year: 2005
Classification: Exempt - Ronin Recommends: G
Runtime: 22 min
Produced In: Australia
Directed By: Robyn Nardoo
Produced By: Rachel Clements
Language: Arrernte Language, English subtitles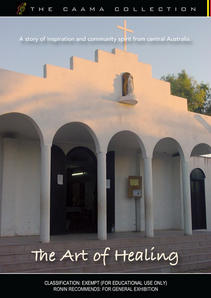 price includes GST and postage

The Saint Teresa Church stands proudly in the Aboriginal community of Ltyentye Apurte, a township of 500 people, 80km south-east of Alice Springs. This is a Catholic Church like no other.
Agnes Palmer, an Arrernte woman, grew up in a Catholic Mission and as an adult felt that she had been given a story to tell about God and the Creation. She became a driving force in a project to paint the bare white walls of the community's church. In 2002, a professional artist, Cait Wait, was brought in to help train a group of women who were interested in painting the walls. The women overcame their initial shyness and fears and through prayer and the singing of hymns, found the inspiration to paint.
From floor to ceiling, all of the walls were covered with colourful paintings of the story of Jesus, mixed with the wildlife and landscapes from the area, and images of Aboriginal people. The work not only gave the women strength and pride but also inspired the community and visitors to the Church.
The intention of the painting was spiritual, with the aspiration of helping people – to share the story and the art with kids in trouble and with others to inspire them. In the words of Agnes at the end of this beautiful film: "I'm telling you mob this story, this big story. Now it's up to you mob to make things right. Because we got a lot of good things to do and I can't do it by myself".
---
Featuring: Agnes Palmer, Cait Wait, Maryanne Ryder, Georgina Furber, Leeanne Ryder, Paula Turner, Mary Therese Mulladad and Rachel Palmer.
Writer/Director - Robyn Nardoo
Photography - Warwick Thornton
Music - Warren H. Williams
Editor - Dena Curtis
Sound Recordist - Vance Glynn
Production Manager - Trisha Morton-Thomas
Series Producer - Rachel Clements
Executive Producer - Jacqui North
Permalink: https://www.roninfilms.com.au/feature/2889