WE DON'T NEED A MAP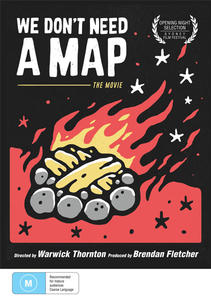 price includes GST and postage

WINNER! 2018 ATOM Award, Best Documentary (Social and Political Issues)
WINNER! Digital History Prize, NSW Premier's History Awards, 2018.
A bold and provocative essay film by Warwick Thornton about the deeply spiritual meaning of the Southern Cross constellation for Aboriginal people.
The Southern Cross is the most famous constellation in the southern hemisphere. Ever since colonisation, it's been claimed, appropriated and hotly-contested for ownership by a radical range of Australian groups. But for Aboriginal people the meaning of this heavenly body is deeply spiritual. And just about completely unknown. For a start, the Southern Cross isn't even a cross - it's a totem that's deeply woven into the spiritual and practical lives of Aboriginal people.
Now one of Australia's leading filmmakers, Warwick Thornton, tackles this fiery subject head on, in a bold film which challenges us to consider the place of the Southern Cross in the Australian psyche.
Imbued with Warwick's cavalier spirit, this is a thought-provoking ride through Australia's cultural and political landscape. The film is part of NITV's landmark Moment in History initiative, launched by NITV and Screen Australia to bring together some of Australia's most experienced and innovative Aboriginal and Torres Strait Islander filmmakers to create powerful, one-off documentaries that reflect on the place of Indigenous Australians in the country today.
On this journey Thornton has had the formidable support of fellow filmmaker Brendan Fletcher, a celebrated director himself, known for the feature drama Mad Bastards and a long history of collaborations with Indigenous Australians.
We Don't Need A Map is an epic telling of Australia's history, told through our collective relationship to one famous constellation. It is a challenging, poetic essay about who we are as a nation.
---
VIEW THE TRAILER: vimeo.com/709292458
---
Director – Warwick Thornton
Producer – Brendan Fletcher
Writers – Warwick Thornton, Brendan Fletcher
Cinematography – Warwick Thornton, Dylan River, Drew English
Location Sound – David Tranter, Nick Emond
Editor – Andrea Lang
Sound supervisor – Simon "Slash" Hicks
Executive Producer – Marcus Bolton, Cutting Edge
Line Producer – Belinda Mravicic
Researcher – Sari Braithwaite
Music Supervisor – Kim Green
Bush Toy artists – David Wallace, Johnny Young
Shot on the Country of the Yolngu, Wardaman, Warlpiri, Gadigal, Woiworung and Wathaurong People.
Financed in Association with Fulcrum Media Finance, Cutting Edge, Barefoot Communications.
Financed with the assistance of ScreenNSW.
Developed and produced in association with National Indigenous Television.
Principal Funder – Screen Australia
© 2017 Barefoot Communications, NITV, Cutting Edge, Brendan Fletcher
Related files
Permalink: https://www.roninfilms.com.au/feature/14981