TIME BOMB [from the CAAMA Collection]
Year: 2005
Classification: Exempt - Ronin Recommends: G
Runtime: 25 min
Produced In: Australia
Directed By: Robyn Nardoo
Produced By: Sonette Johnson
Language: Pitjantjatjara language, English subtitles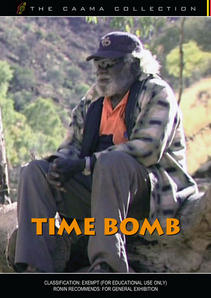 price includes GST and postage

In this film, Frank talks about his life – growing up in Areyonga in a valley of the Macdonnell ranges west of Alice Springs, and attending the mission school there. After schooling, Frank worked as a construction worker in Alice Springs where he also played football. He became a community health worker specialising in Men's Health and the problems associated with sexually transmitted diseases. He spoke in many forums including the Central Australian AIDS Conference in Alice Springs in 1990, using paintings to help get his message across.
When he contracted diabetes, he began a long struggle with dialysis and kidney failure, leading eventually to a kidney transplant and the loss of both legs. He now leads a healthier life-style and urges his community to be more careful about alcohol and a balanced diet, to try to reduce the risk of diseases like diabetes.
Frank Djara speaks openly about his own health problems and his concerns for his community in this simple but powerful film. His story offers an insight into social problems challenging many people in the Northern Territory.
---
Director - Robyn Nardoo
Photography - Warwick Thornton
Editor - Rob Buttery
Sound Recordist - Vance Glynn
Production Manager - Sonette Johnson
Executive Producers - Back Cole and Citt Williams
Permalink: https://www.roninfilms.com.au/feature/2514