MY COLOUR, YOUR KIND [from the CAAMA Collection]
Year: 1998
Classification: Exempt - Ronin Recommends: G
Runtime: 11 min
Produced In: Australia
Directed By: Danielle MacLean
Produced By: Steve McGregor
Language: English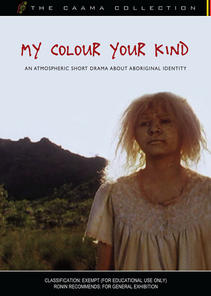 price includes GST and postage

This atmospheric short drama was made on film in 1998 and serves as a showcase for some of the outstanding talent nurtured by CAAMA at that time, supported by filmmaking talent from elsewhere including Safina Uberoi and Jackie McKimmie.
In a sequence of simple, emotionally charged scenes, MY COLOUR, YOUR KIND gives a powerful impressionistic insight into the feelings of alienation experienced by a teenaged albino Aboriginal girl. In a convent boarding school in Alice Springs, she is misunderstood and bullied by a severe, unloving nun. She escapes in dreams and eventually in reality to her mother living in a camp, where she feels at peace.
As an exploration of Aboriginal identity, the film makes a strong contribution, evoking the subjective feelings of someone whose sense of identity is more powerful than the mere surface of her white skin and her blonde hair.
---
Cast: Melissa Middleton (Albino Girl), Christine Palmer (Mother), Rob Wenske (Truck driver) and Sylvia Merrick (Nun).
Writer/Director - Danielle MacLean
Producer - Stephen McGregor
Line Producer - Priscilla Collins
Photography - Alan Collins
Editor - Nicolas Lee
Executive Producers - Matthew Flanagan and David Jowsey
Script Editor - Jackie McKimmie
Production Assistant - Robyn Nardoo
Drama Tutor/Story Board Artist - Safina Uberoi
Sound Recordist - Andrew Belletty
Music - David Bridie and John Phillips
Permalink: https://www.roninfilms.com.au/feature/2298